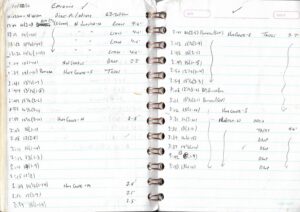 With only a half dozen more Friday Flashback's to go before the series concludes, its time for one more revisit of Emiquon.
Excerpts below from the original blog post on Heartland Outdoors.
Stats
Date: October 22, 2012
Location: The Emiquon Preserve
Time: 11:15am-4:00pm
Totals: 35 bass
Weather: Overcast to partly cloudy/windy
Lures: Booyah Counterstrike spinnerbait (snow white) – 15 bass, Booyah Counterstrike spinnerbait (silver scale white) – 14 bass, Strike King Red Eye Shad (sexy shad) – 5 bass, Bass Pro Shops River Bug (green pumpkin) – 1 bass
Top Bass: 2-11 Spinnerbait
Top 5 Weight: 13-0 (2-11,2-10,2-10,2-9,2-8)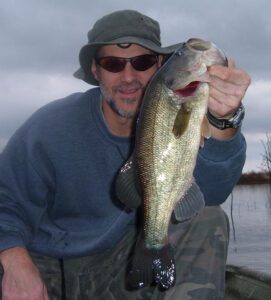 1:52pm – Top Bass of the day at 2-11 (16.5″)
Notes and Nonsense
Flipping The Switch – I spent my first fifty-one minutes without a bass and never even had a bite on about half a dozen formerly productive spots. I was searching fast as I normally do with a rotating combination of a spinnerbait, crankbait and lipless crank depending on how deep, weedy, or woody my targets were. My plan was to get bit, drop anchor and sit on them when I found a bite. I'd resigned myself to the fact that it would be power over finesse as the wind just wasn't conducive to wacky rigging or crawling creature baits. Things worked out in standard Emiquon fashion as once she turned on it went from the Dead Sea to bass waiting in line for their spot in the logbook.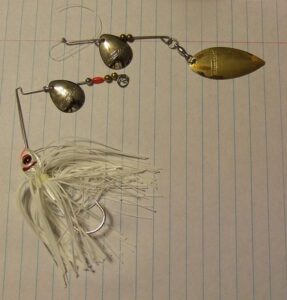 Busted Booyahs
Tough Bass – The bulk of the strikes were not jarring, just heavy with several follows and misses as if the bass were chasing down the lures as opposed to nailing them as they passed by an ambush point (it took three strikes on one entertaining retrieve before the fish got it right at boatside). However, once hooked, the bass put on a good show and fooled me into thinking that I had something larger than the standard issue thirteen-to-seventeen-inch fish. A strong hookset on a creature bait completely fried one of my older reels and I had a couple Booyah spinnerbaits bite the dust as pictured above. The bottom bait in the photo came back missing the willow leaf blade after a strike while the hit and hookset on the other bait resulted in reeling in only a portion of the wire arm. Weird stuff, as I've really been pleased with the Booyah baits as they have handled a couple nice muskies this year along with numerous feisty bass. Such is the always interesting (and in this case expensive) world of Emiquon.
Wind Shortened – With the seventy-five–minute drive and the potential for being my final trip of the year, I'd planned to fish until closing time (sunset was 6:09pm). However, by about 3:45pm the wind had picked up more than the ten-to-twelve mph predicted promising for a long, rough ride back to the truck, so I called it quits. It took about twenty-five minutes into the teeth of the wind with a row/troll combo as I had to stay shallow to avoid the choppier water that gives the johnboat all it can take. Emiquon is interesting in that respect as well because you can't just go cross country to reach the ramp due to expanses of very shallow or weed choked water, even more so this year with a lower-than-normal pool. At any rate, it was the right decision to pass up a few more bites in the interest of safety. Besides, the lake had treated me well after I paid my dues finding productive spots.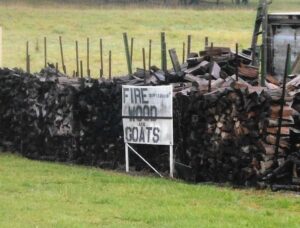 Spotted this sign on the ride home and just had to preserve with a photo
I will admit that Emiquon can make me greedy but thirty-five bass in just under five hours is really a winner for me every time. No true "lunkers" to brag about but some darn good fish in terms of both quality and quantity when compared to other places I could have spent my day.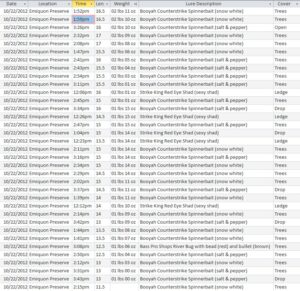 And so it went on that one-of-a-kind fishing hole. In looking over the entries from this trip in my database, I still marvel at the fact that ninety-seven percent of my catches were twelve inches or better (thirty-four of thirty-five bass). Folks, that isn't normal. And neither was Emiquon, once upon a time. Talk to you later. Troy