I launched my boat at The Canal on the morning of October 2 in search of five bass to reach five hundred for the year. After catching four in regular fashion, that final bass turned into quite a challenge. As I struggled to get that last bite, I couldn't help but wonder how Albert Pujols or Aaron Judge felt in their recent home run milestone quests. In baseball parlance, my mindset was "stick to your swing, don't press and it will happen."
Eventually, it did.
My milestone turned out to be the largemouth bass equivalent of a swinging bunt but as the old baseball saying goes "it looks like a line drive in the boxscore."
Once again, with a little lyrical accompaniment from the band Boston, here's how it all went down.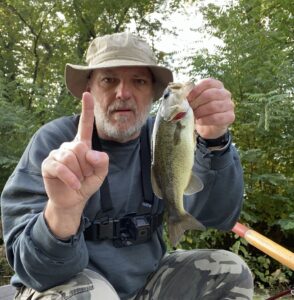 8:09am – Bass #499, one more to go and I sure didn't care if it was big or not
Stats
Date: October 2
Location: Hennepin Canal
Time: 7:10am-9:25am
Totals: 5 bass
Weather: Sunny/breezy 48-60F
Lures: War Eagle spinnerbait (white/chartreuse) with Zoom Creepy Crawler trailer (watermelon seed) – 4 bass, 5" Yamasenko wacky rig (smoke shad) – 1 bass
Top Bass: none at 12" or better
Top 5 Weight: none at 12" or better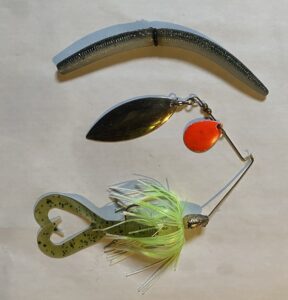 Winning Lures
Notes and Nonsense
Party
"And there's nothing like a party when its kicking into gear."
(Don't Look Back – 1978)
Arriving at The Canal shortly after sunrise, I was surprised to find a table set up with refreshments opposite my point of launch. I thought that word of my quest had spread, and the media and fans would arrive shortly to cheer me on towards my goal. That's not how the whole setup turned out, but more on that in a bit.
Long Time
"I've got to keep on chasin' that dream, though I may never find it."
(Boston – 1976)
Five bass didn't seem like a whole lot considering I had decent weather, quality water, and about forty years of chasing bass in my favor. I fished the length of my chosen pool and landed four of the five I needed in my first hour of fishing. At that point, I was confident that I could retrace my water on the return to the lot and get that final fish. Not so fast, as I covered the mile of water back to the launch and never had a bite. My last shot was an area with increased current around a tube which runs under a roadway. And I had about ten minutes left to fish until I had to head home and get the boys to religious education class.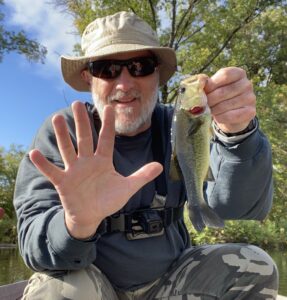 9:25am – That's a 10″ winner for Bass #500
Feelin' Satisfied
"So come on, put your hands together, you know it's now or never."
(Don't Look Back – 1978)
I hit the heavier current in search of one more bite with a couple of decisions to make. First, what lure was I going to use? That turned out to be Senko wacky rig. Secondly, was it more important to get my bass or to get my boys to church on time? Luckily, the Senko came through right away and I didn't have to weigh the consequences related to a poor decision on question number two. While there was neither a cheering crowd nor even a triumphant fist pump, there was relief. After a picture and release of the bass, I put down my pole and rowed for the launch feeling satisfied upon reaching my goal.
I Had a Good Time
"And I, I just wanted you to know, I had a really good time."
(Corporate America – 2002)
Throughout my morning I had seen an increased number of walkers and runners along the towpath that parallels the length of The Canal. I suspected that the crowd was part of an event called the "The Hennepin Hundred," a hundred-mile ultramarathon. And yes, the refreshment table was for their benefit and not related to my quest after all. As I loaded my boat, a vehicle pulled up with a couple of guys who looked like runners. I said, "Hello" and inquired about the race. One individual confirmed that it was indeed The Hennepin Hundred with the finish line located several miles to the west. He also noted that he was from Michigan, had finished his hundred miles earlier that morning and was now ready to cheer on fellow participants. I congratulated him and marveled at his achievement, electing to keep my fish story to myself. It just kind of paled in comparison.
I am still looking for Bass #501 and beyond as I have yet to get back on the water. Time will tell where the final tally for 2022 ends. Talk to you later. Troy