It is a rare occasion that I can get on the water and land a bass in December. In fact, my log entries total five bass caught during the final month of the year. Today's flashback takes a look at the last one I fooled.
Stats
Date: December 2, 2017
Locations: Knox County, IL Strip Mines (3 lakes)
Time: 9:55am-2:15pm
Weather: Sunny/breezy
Air Temp: 44-59F
Water Temp: no reading
Totals: 1 bass
Lures: Rapala Shad Rap SR07 (blue)
Weight: 2-4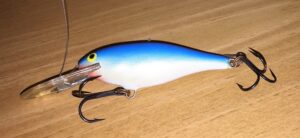 Excerpts from the original blog post December 3, 2017
Winning Lure – I had a total of three bites, and all were on the Rapala Shad Rap. One came before my catch, and another came after but both of those managed to get loose shortly after the hookset. It never ceases to amaze how a bass can elude those treble hooks, but it happens. What was also fun about the Shad Rap coming through is the fact this particular lure is well over 20 years old as evidenced by the stouter, replacement treble hooks that I used to put on many of my crankbaits back in the day.
GoPro – I got this catch on video like several others this year and have included the footage below. I'm not quite sure what lies in store for my clips but have contemplated working them into some future blog and Facebook postings. Whatever the case, it has been a fun addition to the fishing experience that I hope to expand upon for 2018.
Link below to the entire original blog post
http://troyjacksonoutdoors.com/2017/12/03/strip-mine-report-122/
And just like that, the Friday Flashback posts have reached the end. Well, almost. One more post to go as I try to put a wrap on this project that dates back over five years. Stay tuned for a final collection of stats, pics, and video. Talk to you later. Troy