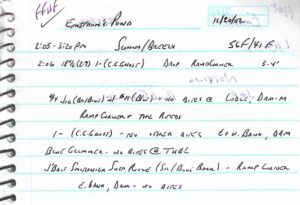 Like last week, today's Friday Flashback features a late season catch from Enstrom's Pond. For some reason that I can't recall, no photo exists of this fish. Does that mean it didn't happen? Why, of course not, as I have a log entry to vouch for the catch. Just like the nearly two thousand other bass prior to the catch and over five thousand more since November 20, 2002. I also have an original fishing report from December 12, 2002, with a portion included below.
"Unseasonably warm temperatures found me at Emstrom's Pond on 11/20 trying to fool a few more bass before the weather takes a turn for the worse. One cast was all it took, and it turns out I may as well have stopped after that cast. A Mann's 1- crankbait (crystal grey ghost) produced a nice 2-7 bass on my first cast just past 2:00 in the afternoon. I fished until around 3:15pm and never had another bite. A jig and pig (black and blue) with a #11 pork frog (blue), a spinnerbait (blue glimmer), and a Smithwick Suspending Rogue jerkbait (silver/blue back) all failed to fool any fish. Air temp was 56 F and water temp was 41 F."
In lieu of the fish photo, we'll look at a few other details that come to mind when reminiscing about the catch.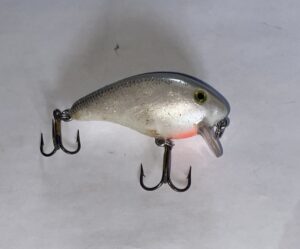 Classic crankbait, the Mann's Baby 1- (grey ghost)
The bass tipped the scales at 2-7 and was caught on a Mann's Baby 1- crankbait (crystal grey ghost). A Mann's Baby 1- crankbait is still a valuable tool in my arsenal twenty years later, having landed a trio of two-pounders on an April visit to the Hennepin Canal this spring. But the Crystal Grey Ghost pattern was a unique bait. Brent and I got the word on the lure several years prior when the guy at the tackle trailer on Tazewell County's Spring Lake regaled us with tales of its prowess one afternoon. I'll save the whole tale for another time, but essentially, he told us that he and his son bought every one in the area to keep them away from other anglers as the lures were lethal. Perhaps we missed out on the 1- heyday as it is productive in certain situations but never a "bass were just jumping into the boat" bait.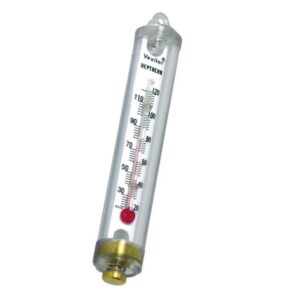 An old school tacklebox tool used to gauge water temps for me once upon a time
The odd thing about this catch on the Mann's Baby 1- was the fact that it landed a bass in forty-one-degree water. Normally it is a warm water lure, and I really don't know what made me tie one on near the end of November. Possibly the warning trend noted in that old fishing report with the air temperature recorded at a pleasant fifty-six degrees.
As the late country crooner, Vern Gosdin sang, "That just about does it, don't it." One more Friday Flashback post and an overall wrap-up of this five-year project to go. Stay tuned and talk to you later. Troy