2022 turned out to be my "Best Year of Bass" as I wound up topping my all-time bass catch record of 418 set in 2020. After bass #419 was landed on September 17 to establish a new personal best, I set my sights on reaching Bass #500 before the year was over. Read on for the results and tune in for a collection of breakdowns on the statistics from 2022 including time on the water, co-anglers, Top 5 weights, lures, destinations, presentations, records, and more.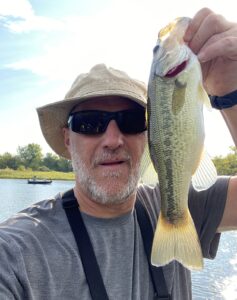 Bass #419 sets a new personal best total but there were more to come
Grand Totals (bass fishing only)
56 outings (41 outings in 2021)
187.00 hours fishing (136.75 in 2021)
553 bass (313 bass in 2021)
2.96 bass/hour (2.40 bass/hour in 2021)
Comments: The significant increase in outings was the direct result of a heavy focus on the Hennepin Canal. Forty-three of the fifty-six trips this year were at various spots along the historic waterway. Proximity made for many quick early morning or evening getaways on The Canal and the expanded exploring via boat proved to be quite productive.
First Bass – March 20 at Snakeden Hollow
First Bass/Last Bass
March 20 – Snakeden Hollow 1:20pm 9.5" Shad Rap
November 25 – The Hennepin Canal 3:38pm 13.5" 1-1 Spinnerbait
Comments: My annual mission of starting the year with a March bass and ending with a November bass was accomplished. I did give December a brief shot but came up empty. For the third straight year, the Shad Rap came through with the first catch. And fittingly, my last bass of the year came on a spinnerbait which was my most productive lure of 2022.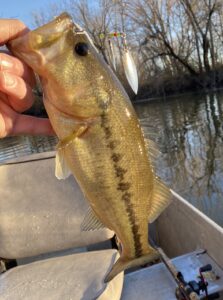 Last Bass (#553) – November 25 on The Hennepin Canal
Monthly Breakdown (Top Day Weight is Top 5 unless noted)
March – 1 trip, 6 bass, Top Weight (3/20 2 bass Snakeden) = 1-6
April – 7 trips, 74 bass, Top Day Weight (4/23 The Canal) = 10-8
May – 9 trips, 94 bass, Top Day Weight (5/27 The Canal) = 9-9
June – 6 trips, 39 bass, Top Day Weight (6/24 The Canal) = 11-3
July – 9 trips, 77 bass, Top Day Weight (7/2 The Canal) = 9-6
August – 6 trips, 67 bass, Top Day Weight (8/13 The Canal) = 10-6
September – 9 trips, 134 bass, Top Day Weight (9/18 Lake Storey) = 9-4
October – 5 trips, 40 bass, Top Day Weight (10/30 The Canal) = 8-15
November – 3 trips, 22 bass, Top Day Weight (11/6 The Canal) = 9-3
December – 1 trip, 0 bass
Comments: Solid production throughout the year and hoping to get on The Canal earlier this year than my April 24 maiden voyage last year. I was also quite pleased with the home stretch of September through November which produced nearly two hundred bass. Thumbs up on quality Top 5 results for each month as my goal is a ten-pound limit when I hit the water and I made the mark in three months and came close for five others.
Top 5 Weight
16-10 (3-10,3-5,3-5,3-4,3-2)
Comments: My annual goal is a twenty-pound Top 5 and while I fell short this year, I can't say that I was disappointed. My fourteen months of experience on The Canal still has me in search of the four-pounders that I need to reach the twenty-pound mark. I've seen posts of such fish from The Canal, so I know that they are out there, but I suspect they are few and far between. I did have a couple misses in 2022 that may have been such fish. So, I know where they live and hope to encounter them again with better results.
The 2022 Fishing Recap series has just begun. Next up, will be a look at the locations that produced the bass. Talk to you later. Troy