Today's recap post covers the locations that produced my best year of bass.
Grand Totals
Bass = 553
Outings = 56 (ranging from 0.75 hour to 7.75-hour trips)
Bodies of water = 47
Bass Fishing Hours = 187.00
Bass/hour = 2.96
Comments: Citing forty-seven bodies of water makes it seem like I fish all over the place which is not the case as the list primarily covers three counties (Knox, Henry, and Bureau). Knox County featured twenty-seven strip pits and Lake Storey. Henry and Bureau County contributed seventeen pools on The Hennepin Canal. The two remaining spots were a Peoria County private lake and a Johnson County public water. This batch of fishing holes combined for a new personal record of 553 bass landed with a further breakdown of the locations to come later in this post.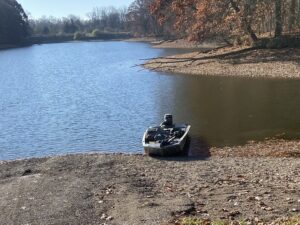 Access
Bank Bass (Northerner boots and hiking) = 123 bass
Little Boat Bass (over 40-year-old 8' johnboat) = 362 bass
Big Boat Bass (1987 Bass Tracker Pro 17) = 68 bass
Comments: Another year of racking up more miles on a pair of boots and a set of oars than I have ever racked up on trolling motors or outboards. I am curious how many miles I walked and rowed on my adventures in 2022 (perhaps another winter project to see if I can get an estimate). While my strip mine trips were limited and only included one boat trip, The Canal was an eye opener upon accessing with a boat for the first time. Much of The Canal is accessible with a portable watercraft and it was well worth the effort of lifting, dragging, and rowing.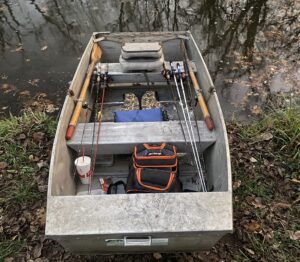 Public vs. Private
Public Water = 528 bass
Top Public Water Bass = 3-10 Knox County strip pit 9/4
Top 5 Public Weight = 16-10 (3-10,3-5,3-5,3-4,3-2)
Private Water Bass = 25 bass
Top Private Water Bass = 1-7 The Rock 9/17
Top 5 Private Weight = 6-0 (1-7,1-4,1-3,1-1,1-1)
Comments: While I have access to a batch of quality private fishing holes at Little John Conservation Club, I never made a cast there in 2022. It was only the second time in thirty-five years that I did not land a bass as Little John. Instead, I invested the bulk of my time fishing closer to home on The Canal. The lone private water bass were from an impressive Peoria County fishing hole known as "The Rock." Private honey holes are always exciting, but I get more satisfaction out of catching them where everybody can fish.
The Waters (from least to most caught)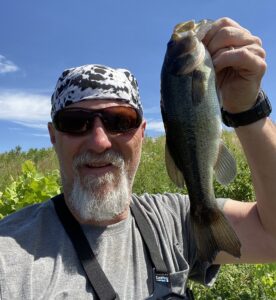 Dutchman Lake – Johnson County, IL
(1 visit – June 23)
2 bass
0.75 hours
2.67 bass/hour
Top Bass: 11.5" Special K Buzzbait
Top 5 Weight: none at 12" or better
Comments: On the way back home from a roundtrip work drive to Dyer, TN, I decided to visit a fishing hole a short distance from Interstate 24 just north of Vienna, IL. It's always nice to break up the drive for my "lunch hour" to see if I can fool a bass on waters I've never seen beyond an internet search. I was quite pleased to fool two bass in the near ninety-degree mid-afternoon heat and sunny skies. Another treat was a conversation with a local kayaker at the primitive boat launch. He even offered me one of his Twisted Teas to cool off but with a six-hour drive ahead I had to pass.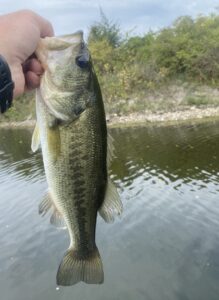 The Rock
(1 visit, 9/17)
25 bass
5.00 hours
5.00 bass/hour
Top Bass: 1-7 (15") Senko wacky rig
Top 5 Weight: 6-0 (1-7,1-4,1-3,1-1,1-1)
Comments: A group outing on a prime private water was a highlight of the year. I had not fished The Rock for two years and my fellow anglers (Brent, Jayce, and John Kirkemo) had never visited the Peoria County water. The lake is still bouncing back from a major fish kill several years ago so big bites did not materialize. However, quantity was more than enough to make for a successful day. More to come on the outing in the "Partners" post of the 2022 recap and a big "Thank you" to owner, Chris Rock, for allowing us to come out and try our luck.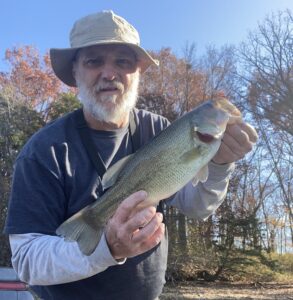 Lake Storey – Knox County, IL
(4 visits – 5/15 through 11/2)
43 Bass (35 bass in 2021)
28.25 hours (37.75 hours in 2021)
1.52 bass/hour (0.93 bass/hour in 2021)
Top Bass: 2-12 (18.5") Topwater Frog on 9/18 (2-14 Top Bass in 2021)
Top 5 Weight: 10-15 (2-12,2-9,2-3,1-15,1-8) Top 5 in 2021 was 12-2
Comments: I always look forward to fishing the Lake Storey fall drawdown in September and October. This year I also expanded my visits to include a May outing as well as a rare November trip to the old lake. The bass were stubborn at times, but overall, I was pleased with the results in terms of quantity and a few solid fish. I also had a heartbreaking muskie miss at boatside, a story that may find its way into another recap post.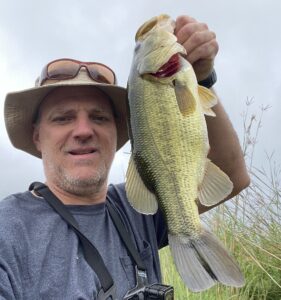 Knox County, IL Public Strip Mines
(7 visits, 27 lakes – 3/20 through 9/19)
124 bass (183 bass in 2021)
31.00 hours (42.00 in 2021)
4.00 bass/hour (4.36 bass/hour)
Top Bass: 3-10 (18.5") Senko on 9/4
Top 5 Weight: 14-9 (3-10,2-14,2-12,2-11,2-10)
Comments: I scaled back on my strip mine drives with the rise in gas prices but still managed half a dozen visits. My largest bass of the year came from a reliable spot and the rest of my Top 5 featured a quartet of nearly identical upper two-pound fish.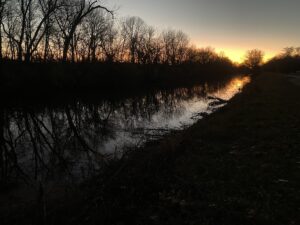 Hennepin Canal – Henry and Bureau County
(43 visits, 17 pools – 4/15 through 12/11)
359 bass (61 bass in 2021)
122.00 hours (31.00 in 2021)
2.94 bass/hour (1.97 bass/hour in 2021)
Top Bass: 3-5 (18" and 19.5") Spinnerbait 4/23 and Buzzbait 8/21
Top 5 Weight: 15-15 (3-5,3-5,3-4,3-2,2-15) 15-6 in 2021
Comments: I concluded my comments for The Canal in the 2021 Fishing Recap as follows, "Glad I gave it a go and plan to be back for more in 2022, perhaps with a boat in tow." Well, that is indeed what I did, and boy did it pay off. All but three of my 2022 Canal bass were caught while rowing around on various pools in the old eight-foot johnboat. I plan to be back for plenty more in 2023 and hope to find an elusive four-pounder or two out there on one of those narrow fishing holes. More to come in an exclusive Hennepin Canal recap posting when time permits.
The recaps continue with posts on the way covering lures and partners. Stay tuned and talk to you later. Troy