For anyone not familiar with the Top 5, it is an audience participation project for anglers to submit their catches for public consumption on what I like to call a virtual brag board. 2018 marks year number five of the project and it's been an entertaining addition to my fishing and writing hobbies as well as something to look forward to with weekly update postings each Monday.  We already have two updates in the books this year, click these dates to check out the postings from 2/5 and 3/5 .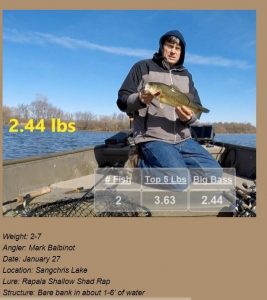 Screenshot from our first 2018 update.
While the first three years were devoted exclusively to bass, for 2017 the project was expanded to include other freshwater species. I will accept either weight or length data based on the angler's preference so there will potentially be separate categories within species according to the information provided. One stipulation is that the fish be landed via rod and reel.
Bass will still remain a collective group for your Top 5 creel (largemouth, smallmouth, spotted or whatever other black bass species you might run into on a fishing journey somewhere) and must measure 12" or better to qualify whether submitted to the length or weight category. Don't hesitate to send in some early members of your "limit" that you anticipate displacing later. It's always fun to watch the progression in such instances and even the Bassmasters have to post some "dinks" along the way.
I don't really have any minimum criteria on other species at this point as this is still a work in progress to see what may turn up. I'm also going to leave each species on its own for this experiment. For example, the catfish family will all be separate, thus a flathead Top 5, channel cat Top 5 or even a bullhead Top 5 if that's your specialty.
For those who elect to weigh their catch, while a digital model is preferred, if you still roll with a DeLiar and such, it's all good as long as you can get within a couple ounces of accuracy (remember there is no big money check). We run on honor code. I shoot straight in terms of weight in all of my fishing reports and I assume others do as well.
The amount of information you are willing to share is entirely up to you. I'm a more information the better guy but I get it if you'd rather remain somewhat elusive. I have compiled a database of the 485 bass and handful of other species submitted over the years and it's always fun to take a look at the record book. Thus, it would be cool to have it dialed in, but I'll take whatever I can get.
Here's what I'm asking for in your submissions:
Weight/Length: I record weights in pounds and ounces such that 5-4 equates to five pounds four ounces as opposed to decimals so I ask that submissions be reported in this fashion to avoid conversion and/or confusion. For length submissions let's go with the nearest half inch.
Lures/Bait: if you aren't willing to reveal specifics such as brand, model, presentation and color, a generic category such as spinnerbait, plastic worm or crankbait would be appreciated. Chicken liver, stinkbait, dew worm, cutbait and so on work just fine as well.
Location: if you don't want to say "Emiquon Preserve" just go with Fulton County and a designation of public or private would also be of interest. Even West Central Illinois strip mine or Eastern Iowa stream would be beneficial if you prefer not to be too specific.
Date: can't see much of an issue with this aspect but I guess I'll just list it as the date I received the submission unless otherwise noted. Once again though, the more accurate the better in my book.
Name: totally up to you whether you want to use your real name or a nickname, just let me know what you prefer.
Photo: a pic is required so have your cameras or "phones" at the ready. After all, part of the premise of this entire project is to show more fishing pictures on the website than just my little bass. Whether you put your mug in the frame is your choice.
Angler Comments: if you've got a story, something weird or otherwise interesting to pass along with the catch, by all means, include your tale. Same goes for structure as it's fun to hear if the fish came off a point, alongside a laydown, amidst a patch of lilypads and so on. I will be happy to use your description, as written, in the periodic updates so don't use any "bad" words, that way I don't have to spend time editing.
Having typed all that, here is a sample submission (using an old school bass just for fun on the heels of Easter weekend):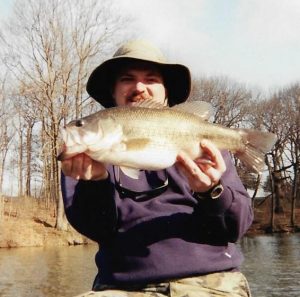 Troy Jackson
Largemouth Bass
20"
4-0
Lake Storey
April 4, 1999
Spinnerbait (blue glimmer)
Dad and I were able to sneak away for a little Easter Sunday bass fishing on our "home lake." My only bass of the day and first of the year but a cool way to kick it off, came on a perfect setup as I slowly ran my spinnerbait parallel to a submerged log, just like you read about in the magazines.
And here is the general process:
Step One: You catch, weigh/measure, document and photograph a fish that resides in your Top 5 heaviest of 2017.
Step Two: Send your pic and details to troy@troyjacksonoutdoors.com.
Step Three: I track the catches and photos in order to provide periodic updates (typically each Monday) as you build your Top 5. (Note: you send each fish as you work towards a Top 5 rather than waiting until you have five, unless, of course, you wipe 'em all out on your first trip).
Step Four: Repeat the above, replacing (or culling to use a tourney term) smaller Top 5 fish as larger ones join your ledger. For instance, say your Top 5 by May 1 is as follows: 3-4, 2-7, 2-3, 1-12 and 1-11 for a total weight of 11-5. Then on May 6 you reel in a 3-3 so out goes the 1-11 and the total weight bumps up to 12-13. Same concept for length submissions.
And we've already got a pair of limits on the books as a couple of us were able to get out in January and February. Crazy thing is, I'm sitting here typing the draft of this posting amidst a late March snowstorm that has really dumped a pile of the white stuff on us. I'd say "C'mon spring" but I guess it's already here. Good luck out there and talk to you later. Troy