I don't know about you, but I sure think that there just aren't enough fish pictures on the internet. So, five years ago, instead of just griping about it, I decided to do something about it. Now, I've been sharing my own fish pics for almost seventeen years but figured the more the merrier. After all, if you've seen my level of fishing and the limited time I have to get away, well, you are aware that I need some help.
Enter the Top 5 Project back on March 21, 2014 to provide an assist via the catches of fellow anglers. Just over five years later our dynamic group continues to do its thing to address the dearth of fishing pictures (and stories).
Which brings us to a milestone, Top 5 bass #600, caught by Jim Junk and detailed below.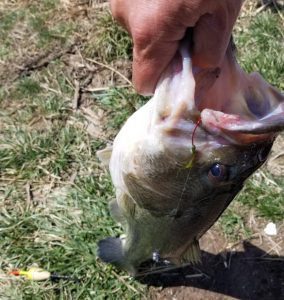 Weight: 4-1 (20")
Angler: Jim Junk
Date: March 31
Location: Banner Marsh
Lure: Minnow hung from a bobber
Angler Comments: Had some minnows left over so hung one from a bobber and then cast the bank with a swim jig for a while. Look back and don't see the bobber so reel in slack and set the hook on something with some weight to it. Started stripping line and we went back and forth for about 15 minutes. Finally got it to the bank and grabbed its mouth. I am pretty sure that reel has 4# line on it, 6# at the most. It was really fun!
Now that's what it's all about, a good fish, a good story and a couple good lessons. First lesson being the old adage that says "the best time to go fishing is anytime you can." And Jim's catch is proof that as long as you've got a bait of some sort in the water, anything can happen.
A shout out to Jim and the others who have joined the pursuit over the years. I'm proud that we have contributed something worthwhile to the vast landscape of cyberspace. Part education, part entertainment, part escape and just good clean fun with the only kind of drama being the right kind of drama. Here's to the quest for Bass #1000, feel free to play along (click here for details). Talk to you later. Troy