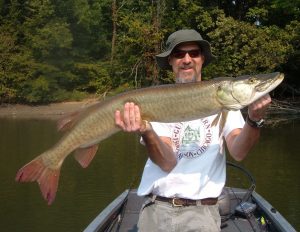 Five years ago today on the water produced the following fish story, selfishly one of my favorites. As such I can't resist going back in time today with a revisit of the original blog posting from 2012.
It was the worst of times; it was the best of times.
First things first before any lit teachers, scholars or aficionados elect to point out any perceived potential incongruity between my title and tease. I do indeed know that my title borrows from Dickens (A Tale of Two Cities) while my tease reworks some Tolstoy (War and Peace). I just thought that they were both well suited for what's headed your way today. And while I know enough to be dangerous about each book, I will fully admit that I have read neither novel, nor do I have any desire to read them in the future. Okay, enough education/trivia/nonsense, on to my own classic tale, a literal, not figurative, fish story.
The One That Got Away – If you happened to catch my Lake Storey Report entry last Thursday, you are aware that I lost the biggest muskie me and my brother, Brent, had ever battled. Right around lunchtime the fish hit a Strike King KVD Rattling Squarebill crankbait about three cranks into a retrieve in maybe three feet of water. The first thing my brain processed was that I'd snagged a big old carp until the fish surfaced and more than got our attention. I fought the biggest muskie we'd ever seen for several minutes with Brent having to duck my line and me walking from front to back to front to middle of the boat as the beast made line striping runs and one spectacular water clearing leap while giving my six foot rod spooled with twelve pound monofilament all it could handle. Following the leap the fish was actually headed away from us with the line wrapped around its body and coming out from beneath a thrashing tail. Somehow it rolled or turned and everything got back to some semblance of normal and the still excitable fish came boatside. I mistakenly advised my net man to hold off on attempting a dip as the fish certainly exceeded the normal size of catch for our tool. Bad, bad move on my part as a subsequent headshake must have been just enough to cut the line and our fish was gone. I was pretty bummed but occasionally able to still cling to the hope that something good was still to come.
Moral Victory – I tried not to beat myself up too bad but told Brent that it was difficult to quell the sick feeling that kept cropping up in my stomach for the next couple hours (the scenario still plays out in my mind). I was proud though upon asking him if I swore after losing the fish and he said he didn't think so; I didn't think so either but it was all kind of a blur. I'm not really a profanity fan but would certainly excuse a spate of colorful language from a fellow (or even a lady) under the circumstances and would not pass judgment. I was also proud that I kept my composure in light of the fact that we had an audience of five within earshot including a little guy who had come down near water's edge from a nearby walking path with his parents. And not that there's anything wrong with tears, but I also didn't cry; wanted to, but toughed it out.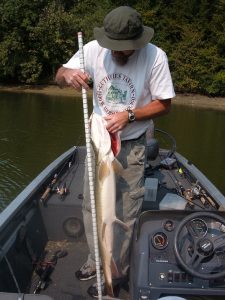 Karma –At one point I pondered aloud to Brent about karma and what the fishing gods might have in store for the rest of our day. As we kept moving and casting, I offered that I would take a six pound bass to soothe the punch in the gut of the lost fish. Brent responded, "That's right, you've never caught a six pounder" in recalling that my personal best jumps from a 5-15 runner up to a 7-3 Top Bass. I also reminded him that he'd only barely joined the six pound club (in a good way) with his Top Bass of 6-15.
Ah yes, the old fish stories, a little good natured ribbing and the next cast all help to facilitate the healing process. I was far from over it, but could feel tinges of the way that time does its thing. Sure there's a whole list of things in my life that are a lot more important than some feisty, powerful, toothy, four foot fish but it sure would've made a sweet picture before it was released to maybe get fooled again someday (when it grew up a little bit).
Now, I don't know what I deserve or what I don't, if anything at all. But I play by the rules, respect the hobby and the quarry and relish the time on the water when flying solo or joining forces with fishing partners young and not so young. It's hard not to sound overly dramatic but I've been around for forty five years and that fish literally represented the fish of a lifetime. I'm pretty sure that more than a few fellow anglers can relate; a tough pill to swallow that could really ruin your day, you've got to just keep casting and that's what we did.
Second Chance – Not more than a couple casts after lamenting to Brent that the big old muskie sure would've made a nice blog picture, my Booyah Counterstrike spinnerbait stopped dead in a spot featuring a small stump and a couple fallen trees in about four foot of water. I hollered to Brent, "Got a second chance!" while also adding, "If he gets anywhere near the boat take a shot and if we get him, we get it, if we don't, we don't." Well, the muskie wasn't listening initially as he made a run under the boat prompting me to dunk my rod in the water to keep the line from hitting the underside. I could actually hear the fish splashing on the surface on the opposite side of the boat, behind me, but didn't dare look as I was concentrating on the rod, waiting for the fish to move and hoping it was towards my end of the boat and deep enough to stay out of the trolling motor. The muskie cooperated on both accounts, came within reach and Brent did an excellent job of putting him in the net. I'm far from Mr. Excitement but let out an involuntary, excited and relieved, "Yes!!!" and did some kind of double fist pump that would have perhaps even impressed some of today's exceedingly celebratory athletes. As Brent shot a few quick photos prior to the release I commented that I hoped they worked out alright as I was shaking. Looks like me, the photographer and the fish all did just fine with the latter leaving my release, swimming back into the stained water and fading from sight.
Date: September 16, 2012
Location: Lake Storey (no further specifics on either fish, sorry)
Time: 2:31pm
Lure: Booyah Counterstrike spinnerbait (snow white)
Length: 43" (originally thought 44.5" until reviewing photos, hey I was excited)
Weight: 19 pounds 8 ounces
Perhaps my most important detail: Released (voluntarily, unlike his counterpart)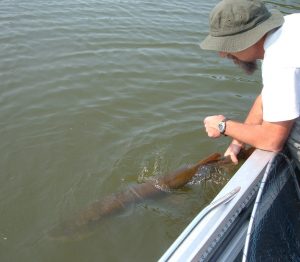 Well, there you have it, maybe a bit longwinded but nowhere near the Dickens novel or Tolstoy tome referenced above. Try as we may, "the one that got away" is a recurring fishing staple for those of us who have invested our time and effort in pursuing this wonderful hobby. I'm sure we've all been there; you get over it, move on, find another one that doesn't "get away", life gets better and the old fish story is retold with a little less heartbreak as time and tales go by. I'm a very pleased to have the photos and memories of a new personal best muskie yet can't help but wonder…
For in true "one that got away" fashion, Brent mentioned, "I think the other one was bigger."
Of course, I think so too.
As dedicated anglers know, a full day of fishing may only be punctuated by a few scattered batches of catching (and nearly catching). But within those few minutes can lie a tale to last a lifetime. Talk to you later. Troy