I took a recent Monday off work after the previous week wound up lengthier than normal due to being on the road for four days to Lincoln, NE and Wichita, KS. With Julie working and the kids in school I essentially had no responsibilities from about 8:00am when the last kids boarded the bus until around 3:00pm when they got back home. Guess what I did.
Stats
Date: September 11, 2017
Location: Johnson Sauk Trail Lake, Henry Co. IL
Time: 10:15am-1:15pm
Weather: Sunny/breezy
Air Temp: 64-74F
Water Temp: no reading
Totals: 5 bass
Lures:
Strike King Red Eye Shad (sexy shad) – 3 bass
Booyah Counterstrike Spinnerbait (salt & pepper) – 2 bass
Weight (only two bass at 12" or better): 2-1 (1-2,0-15)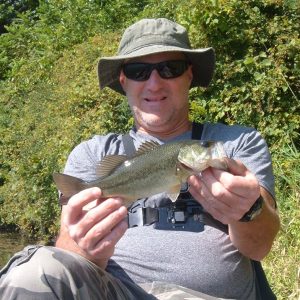 11:06am Short bass but on the board after 50 minutes of searching
Notes & Nonsense
Dilemma – Public and private, I have a fair amount of fishing holes to choose from so sometimes it gets to be a challenge when deciding where to go on a day off with roughly seven hours to escape, travel and fish, combined.  I'd hit the Knox County strip pits pretty hard and gave my Iowa stomping ground a go a few days prior so I was up for a change of scenery to do some research.  The family had visited Johnson-Sauk Trail State Recreation Area earlier this summer and the lake looked inviting so I figured that this day was my opportunity to give it a shot. Funny thing is, while driving down the interstate I completely missed my exit as autopilot had me headed back to Knox County.  Only cost me maybe 10 minutes and good for a laugh.
Impression – I had not been on the water at this lake since 2002 as my first impression was not favorable. When fishing with my brother, Brent, that year we found it to be so weed-choked that it was essentially unfishable. On this return visit, I still found one half of the lake to be rather difficult to fish due to being extensively shallow and weedy with virtually no shoreline cover having deep water access in close proximity. Venturing to the other half of the lake I was able to find a steeper contour containing some visible structure that resulted in four of my five bass.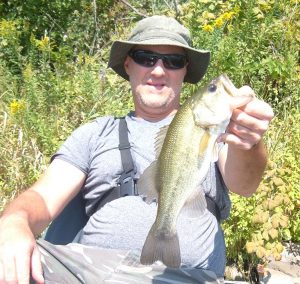 11:09am Top Bass 13.5″ 1-2 Red Eye Shad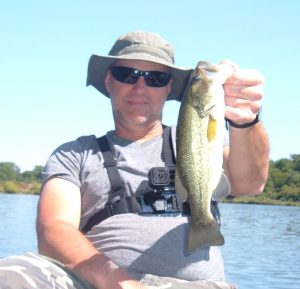 12:50pm Only other "keeper" 12″ 0-15 Red Eye Shad
"Accident" Potential – Although I was targeting bass as usual, I did have visions of crossing paths with a muskie as the 58-acre lake does have some history when it comes to large specimens of these toothy fish. The camp store on site has a mount of a 48-inch muskie along with a couple photos or recent and released mid 30"+ fish. And then there's a fish sampled by the Illinois Department of Natural Resources back around 2002 that weighed in at just under 43 pounds, easily topping the 38-8 state record. Nothing of the sort for me on this day but the "what if" factor is always a bonus.
Assessment – I was a bit frustrated with a slow start and the shallow, weedy conditions coupled with a late morning launch had me wondering if I made the right choice. However, two bites in three minutes and finding some water to my liking turned things around. I did have a contour map which provided some clues but rowing around in an eight foot johnboat without a depthfinder on an unfamiliar lake can be a challenge. But that's how I roll, so no complaints, just takes some work.
Five bass between 10 and 13.5 inches in three hours was not quite the smashing success I was looking for but a reasonable day on the water for this amateur angler.
Will I be back?
Tough call, as I've got a lot of other fishing holes that I know a lot better. Still, always fun to see and learn some new water and at 58-acres this one isn't very overwhelming. Perhaps as a joint trip with another fishing hole in the vicinity, we'll see. Talk to you later. Troy