The Fall drawdown on my lifelong "home" lake and fishing with my brother, Brent, meant it was gonna be a good day whether the fish were biting or not. And after a bit of a slow start, they sure were.
Stats
Date: September 17, 2017
Location: Lake Storey
Time: 6:45am-1:30pm
Weather: Overcast to sunny/breezy
Air Temp: 72-76F
Water Temp: 75-76F
Totals: 27 bass, 1 muskie (Troy – 18 bass, 1 muskie Brent – 9 bass)
Lures (Troy)
Mann's Baby 1- Crankbait (Tennessee Shad) – 15 bass, 1 muskie
Booyah Buzz Buzzbait (chartreuse shad) – 2 bass
Terminator Spinnerbait (firetiger) – 1 bass
Lures (Brent)
Mann's Baby 1- (red/yellow) – 5 bass
Spinnerbait (white or brown/orange) – 4 bass
Top 5 Weight (combined): 8-3 (2-9,1-11,1-6,1-5,1-4)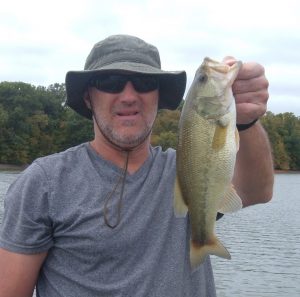 10:02am 12.5″ 1-4 Mann's Baby 1- crankbait
Notes & Nonsense
Slow Start, Strong Finish
6:45am-9:19am = 4 bass
9:20am-10:55am = 13 bass, 1 muskie
10:56am-11:56am = 2 bass (back to back casts)
11:57am-1:30pm = 8 bass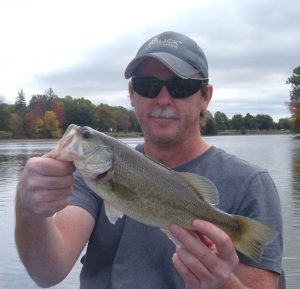 10:11am 14″ 1-6 Mann's Baby 1- crankbait
The Spots – Several reliable spots proved tough over the course of the day with only 4 bass coming on about eight targets ranging from specific pieces of structure to lengthy stretches of bank. However, one other stretch that can waver in terms of consistency turned out to be the big winner. A couple scattered bites got our attention followed up by a lure change after a lull and we were onto the bite we were after. We worked the area over thoroughly and the reward was 13 bass and a muskie in an hour and a half, all of them on the Mann's Baby 1- crankbait.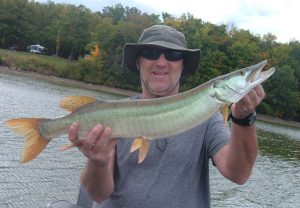 9:47am Muskie "accident" 29″ Mann's Baby 1- crankbait
Close Quarters – Just prior to the Baby 1- bass flurry I landed a muskie that hit the same lure right next to the boat. It suddenly appeared in the stained water as I was ending my retrieve with maybe ten feet of line beyond my rod tip. As quick as the strike occurred it is still interesting how things kind of happen in slow motion for that split second. In this case, I was able to recognize what was going down, set the hook, get my thumb in gear to put my baitcaster in free spool while also maintaining enough pressure to avoid a backlash and let the fish run long enough to give me some more room to have some control. A solid job on the net from Brent and we had a bonus species in the boat. At 29", not a trophy by any stretch, but always cool and really kind of lucky as if it were much bigger it may have jerked the rod right out of my hand or likely broke me off on the strike.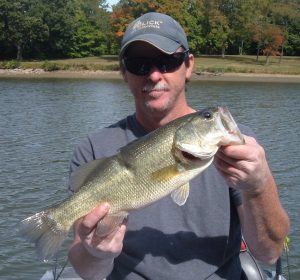 11:21am 17″ 2-9 Emiquon Special spinnerbait (note the back injury on this fish)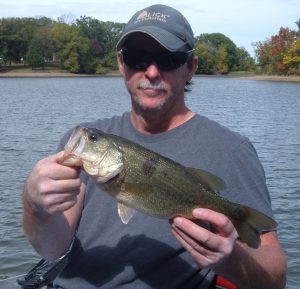 11:23am 14″ 1-11 Emiquon Special spinnerbait
Emiquon Special – Brent's legendary spinnerbait (another story) added yet another tale to its exploits. Originally casting a white spinnerbait, Brent got snagged on some brush and I employed my lure retriever to rescue the lure. I told him I was not responsible for any abrasions on his line after the save and unbeknownst to me he elected to retie but switched to the legend. Next thing I know, he's reeling in our Top Bass (2-9) from a log on the very first cast. We were still laughing at the good fortune when his second cast with the bait produced our Top 5 runner-up at 1-11 from the same spot. While he would only land one more bass on the lure the rest of the day, the back to back bass made for a story that will certainly be told each time we cast to that log in the future.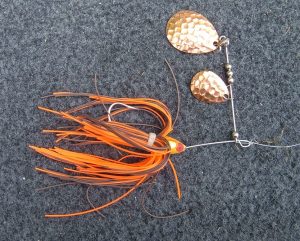 Winning Lures – Emiquon Special and Mann's Baby 1- 
Prediction vs. Results – During a visit the previous day with my brother-in-law, I mentioned the upcoming Lake Storey outing noting that a six or eight bass day would be a reasonable outcome as those bass can be a bit hard to fool at times. Our haul of 27 definitely shattered that prediction but every once in a while you get it right. The mid-morning flurry certainly beefed up our totals but the back to back bass and three others in four minutes off of a solid piece of structure were also quite rewarding.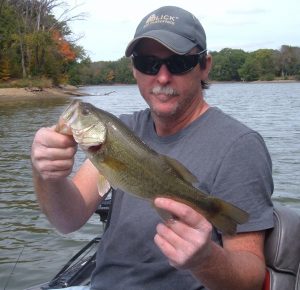 12:15pm 13″ 1-5 Emiquon Special spinnerbait
Nothing trophy size given up by our old friend this time around but wouldn't change a thing about our visit. Plain and simple, the bass here aren't real easy to fool. Even after close to 35 years on the chase, I still get a charge out of fooling any of them regardless of size. For my money, there is more of a sense of accomplishment when landing these fish than anywhere else I make my casts. Talk to you later. Troy