Been a while since a fishing report and likely going to be a whole lot longer until another new one as this November 4 outing is probably the 2017 finale. But what a year it was and perhaps will have to revisit it with a few recap postings as the 2018 kickoff nears. First things first though, as I set out last Saturday afternoon to meet my annual goal, a November bass before putting away the gear.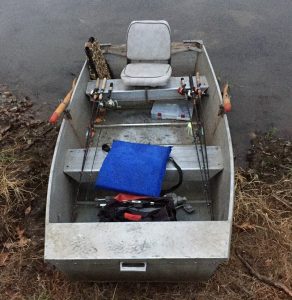 Last trip of 2017, over 30 years of rowing, many miles, many bass, many tales with this old companion
Stats
Date: November 4, 2017
Locations: Little John Conservation Club (2 lakes)
Time: 2:40pm-5:55pm
Weather: Overcast/breezy
Air Temp: 48-51F
Water Temp: no reading
Totals: 3 bass
Lures:
1/4 oz. Rattling Jig (black/blue) with #11 pork frog (black) – 1 bass
Strike King Red Eye Shad (sexy shad) – 1 bass
Strike King KVD 2.5 Rattling Squarebill crankbait (sexy shad) – 1 bass
Top Bass: 1-12 KVD 2.5 crankbait
Weight (2 bass at 12" or >): 2-10 (1-12,0-14)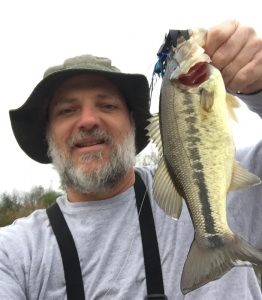 3:52pm First Bass 12″ 0-14 Jig & Pig
Notes & Nonsense
Uplifted – A rainy day, a frustrating week of work, the general weight of getting by and the end of my fishing year in sight kind of had me in a surly mood as I readied my gear for an early afternoon departure. In fact, one my boys, Jayce, was really itching to go but conditions were just not favorable prompting me to comment to Julie that he was more enthused than I was. Not entirely true but just the mindset I was in. But as I cranked the truck and turned on my radio, an old 80s cut had me headed towards a better mood. Thanks, Larry Blackmon and Cameo, as "Word Up" kicked off a better mood as did a string of other tunes, a Top 10 list for another day.
So Close – It took me about 45 minutes to get the bite I was seeking. It came on a jig and pig worked around some overhanging bushes and it sure seemed like I had the monkey off my back as I swung the bass into the boat. However, it came unhitched en route and ended up back in the drink before I ever got a hold of it. Not a lunker by any stretch, maybe a pound, but I was sure disappointed and left wondering if I might have just missed my lone shot at the sought after November catch.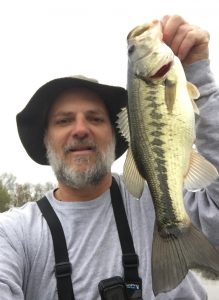 4:30pm Last Bass and Top Bass 15″ 1-12 KVD 2.5 Squarebill crankbait
Second Chance – Fortunately, I only had to cast for about twenty more minutes before another bass took a liking to my jig. Once again, no trophy but didn't matter a bit to me as I had achieved my goal and the rest of the day would be icing on the cake. Two more bass joined the log over the next forty minutes before the day ended with an hour shutout on a second lake where I normally find some late season lipless crankbait success.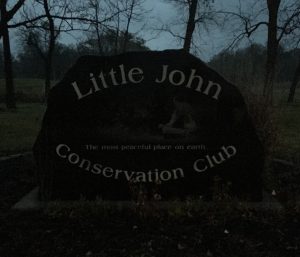 Had to shoot a final 2017 fishing farewell pic in the fading daylight
As I noted in the intro, I suspected that this trip would be the 2017 finale and a combination of responsibilities, work and less than ideal weather on the horizon pretty much seal the deal. But what a year it's been for me with a personal best Top 5 haul that started off back on March 4 with a 6-2 for my very first bass of the year. Not surprisingly, I never found another to exceed that mark but did fool a couple within shouting distance. No complaints here, never are, as it's always a treat to get on the water and try and figure them out. Hope to have some more fishing stuff and various other postings throughout the "off season" so stop by to fend off some Cabin Fever. Talk to you later. Troy