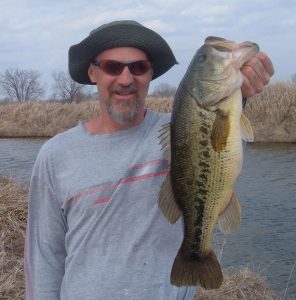 April 12, 2014 4:58pm 4-6 Jig & pig, shout out to my lucky fishing hat as well as the bass
Okay, so I've only got four more Blog Banner pictures to cover. And if you are keeping score at home, you already know that it is exclusively a fishing finish. Almost like I planned it that way as Mother Nature typically produces some open water around here for us folks who don't get too gung ho on the hard water fishing.
Today's pic features one of a pair of four-pounders reeled in back in April of 2014 on some West Central Illinois walk-in strip mine ground while fishing with my brother, Brent.  It was an incredible day as noted by the following stats, pics and Top Bass details, originally reported on the Heartland Outdoors website on April 16, 2014 (see link).
Date: April 12, 2014
Location: Knox County strip mines
Time: 10:20am-6:05pm (5.75 hours fishing, the rest walking/driving)
Totals: 107 bass (9 different lakes)
Brent Totals: 51 bass
Troy Totals: 56 bass
Top Bass Brent: 3-8 Jig & Plastic
Top Bass Troy: 4-6 Jig & Pig (black & blue)
Top 5 Combined Weight: 17-2 (4-6,4-2,3-8,3-0,2-2 all pictured within this post)
"My Top Bass of 4-6 set a new site record besting a 4-3 I caught last fall. The fish came on a jig and pig (black and blue, of course) as I worked it up a dropoff near a shallow saddle between two fingers on a spot I call Twin Lake. The water is quite clear and I actually saw the dark shape of a bass taking a look at the jig as it came into view about six feet deep. When I saw the big boy go nose down and my line start to move sideways I knew I was in business. I hollered at Brent who was around the corner and pretty soon he was taking a snapshot of me and my 2014 best (so far). It's tough to describe how cool it was to see that fish decide my jig was worth eating."
Tough to describe, indeed, but I'm going to try anyway after a look at the rest of our Top 5 on the day.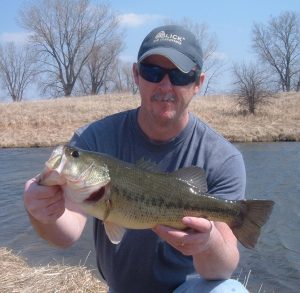 11:44am 3-0 Spinnerbait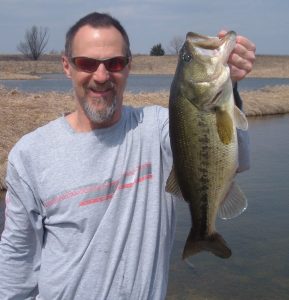 12:08pm 4-2 Jig & pig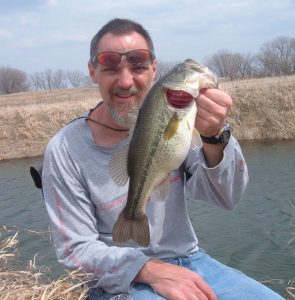 1:37pm 2-2 Jig & pig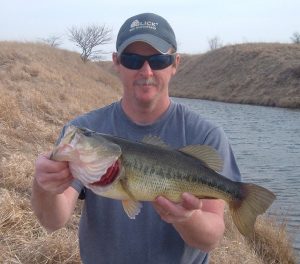 5:43pm 3-8 Jig & plastic
So, this spot featured very clear water and a steep drop into the main trough of the lake beginning just a couple yards out from my position on the bank. As my jig barely came into view when slowly hopped from the depths, a dark (and large) shape appeared a few feet behind the lure. Cue several nerve racking seconds when it seemed that time slowed down. While the bass was interested, it had yet to commit and if I could see it, it could see me as well. Therefore, I had to be as still as possible yet impart just the right action to the stationary lure lying on the bottom within a foot of the fish. With the slightest lift of the rod tip the jig scooted along the slope with the skirt momentarily flaring out and the pig trailer giving a slight wave to my target. Slowly, the bass went nose down and looked to take the lure but I was leery to jump the gun on a hookset for fear of pulling the bait away and blowing my chance. I shifted my focus from the fish to the spot where the line entered the surface and saw it begin to move slightly to the left meaning that it was go time. A firm hookset met with solid resistance indicating that I had played my cards right and all those years of practice had paid off for this veteran, unshakeable angler.
An angler whose hands were shaking as he lifted his catch from the water. I've had this bite hundreds of times, unseen on the end of a long cast or hidden by the depth or clarity of the water. Thus, it was very cool to watch it unfold at my feet. Man, I dig fishing. Talk to you later. Troy