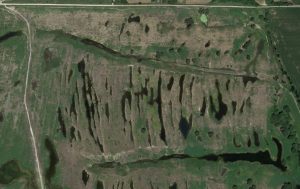 Had to include a shot of some of my stomping grounds in the Blog Banner as strip mine fishing has provided many good memories over the years. And a lot of miles on terrain that isn't near as friendly looking from the ground as it is from the sky. Looks like you can just hop right from one body of water to the next if the fish aren't biting. Well, lakes that appear to be a couple casts away can wind up being a substantial walk. That whole closest distance between two points is a straight line adage looks good on paper but strip mine reality is a different ballgame.
But hey, that's part of the fun right?
And on the positive side, it keeps the pressure down. Only a fool would venture to some of those remote spots.
Yep, a treat to find no other footprints and some uneducated bass.  You also know you are in the right place when you don't see any trash. Always marveled at those who can haul in full sodas or beers yet can't haul the weightless empties back out.
What's also fun about remote collections of fishing holes is the fact that they don't have a name. At least until I fool a bass in one of them. At that point I've got to log the catch which means I get to come up with my own and I will readily admit that this fishing fool is easily amused by himself.
Today's photo only shows a portion of this overall location and some of the fishing holes here and the adjacent ground bear the following names.
Maiden Lake – first stop I ever made on the area.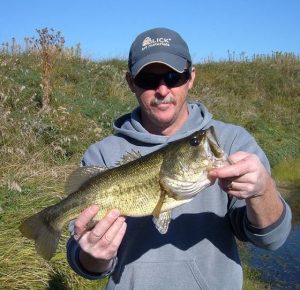 Kentucky Lake (above catch by my brother, Brent) – shaped like The Bluegrass State when seen from the air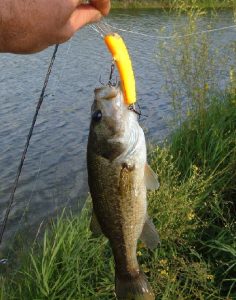 Cottonwood Lake (above catch on a Bagley Smoo) – home of the 2014 Misfit Lure series (another story, may revisit)
Beamon Lake – narrow enough to jump (go ahead, you can make it), named for Bob Beamon, old school long jump champ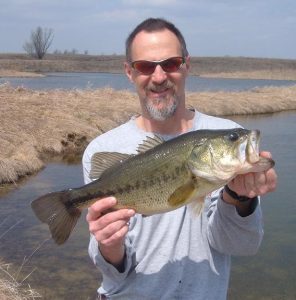 2×4 Lake (above) – two four-pounders in one day, a third since then as shown in this pic
K9 Lake – named after a homemade lure that fooled some bass (see here)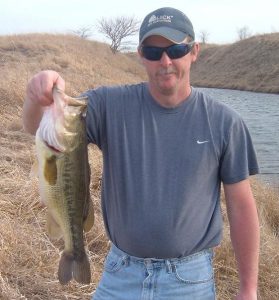 Horseshoe Lake (above) – that shape and pretty good luck too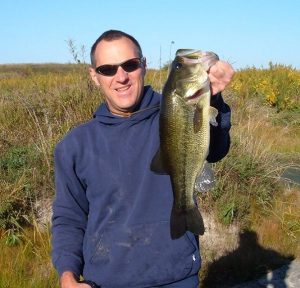 Molar Lake (above) – thought it looked about like the shape of a back tooth
Far Lake – can't get any further from the truck than here, little bass, questionable decision
As with all of the pictures in the Blog Banner there are several reasons for inclusion. Good fishing, the goofy habit of christening fishing holes and the cool, technological ability to see your stomping grounds from above even when you are standing in a spot in that middle of nowhere. But don't let that bird's eye view fool you. For as the crow flies is one thing, a pair of Northerner boots and too much fishing gear is something completely different. Wander at your own risk. Talk to you later. Troy