No need for much introduction, did that yesterday for Part I of the lure portion of the 2017 wrap-up. My standard go to baits and one newcomer that made a big splash (actually several big splashes).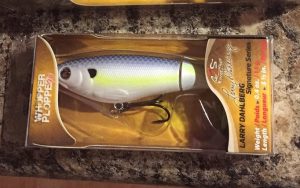 New addition for 2017 Whopper Plopper 90 (I Know It color)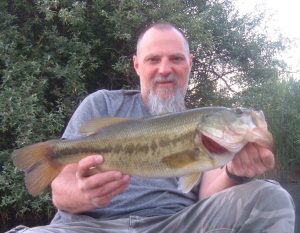 2017 Whopper Plopper Top Bass (see below)
Propbaits
Whopper Plopper 90 (I Know It) – 11 bass
Top Bass: 20.5" 4-7 July 17 Little John Conservation Club
Comments: I am not a $12.99 per bait price range kind of guy, no matter how catchy the name is. You see, there's two ends to this fishing thing, one is the lure on the end of the line, the other is the angler on the end of the rod and I rarely see a need to spend that sort of cash on the latest rage when I've got a lifetime of experience with lures that have worked for years. But, I had a gift certificate and Whopper Ploppers were on sale so I now have several in the tacklebox. And I'll be darned if this crazy new bait didn't produce a 4-7 for its first bass after ten minutes of casting. Perhaps a lure that truly catches fish and not fishermen, more field testing to come in 2018.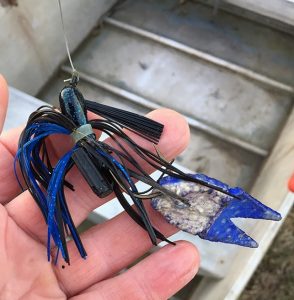 Jig & Pig (black & blue), a legend and I am too cheap to replace this chewed up version as obviously it works
2017 Top Jig Bass, first catch of 2017, believe it or not (see below)
Jigs
Strike King Rattlin' Jig (black/blue) with #11 Uncle Josh trailer (black/blue) – 15 bass
Top Bass: 22.5" 6-2 March 4 Little John Conservation Club
Comments: If you are throwing a jig, you've gotta start with good, old black and blue and what a way to start 2017 with a 6-2 taking the bait for my first bass of the year. On the downside, I failed to fool a larger bass the rest of the year. On the upside, who cares? I'm sure other colors work just fine but the bass haven't let me down on this old favorite yet.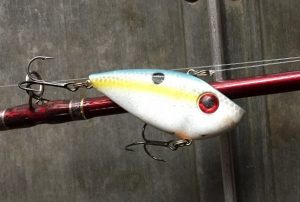 Strike King Red Eye Shad (sexy shad)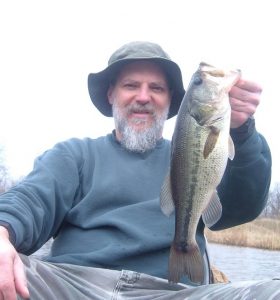 2017 Top Lipless Crankbait Bass (see below)
Lipless Crankbaits
Strike King Red Eye Shad – 27 bass (sexy shad – 26 bass, orange craw – 1 bass)
Top Bass: 16" 1-15 March 26 Little John Conservation Club
Comments: This bait is a favorite and produces throughout most of the year and surprisingly well in colder water as it is generally worked at a decent clip. Therefore, it is right up my alley although I do try and slow it down early in the year. 2017 was a down year for these baits, however, as the early buzzbait bite got me sidetracked.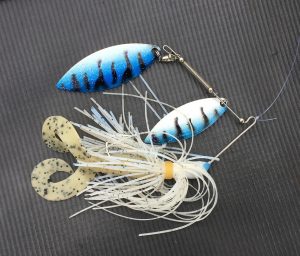 Classic "Blue Glimmer" bait, possibly an antique but still getting it done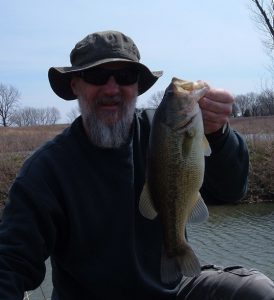 2017 Top Spinnerbait Bass (see below)
Spinnerbaits
Booyah, Stanley Vibra Shaft Blue Glimmer, Teminator – 41 bass
Top Bass: 16" 2-1 April 8 Knox County, IL public strip mine
Comments: Seems like the good, old spinnerbait has kind of fallen out of vogue if you read the major publications. I do have a couple of those subscriptions but either did not get the memo or just too set in my ways to ditch this favorite. Perhaps I will be on the leading edge of a spinnerbait revival after this post hits the internet. Okay, maybe not but I'll keep tossing these things around as I will never get tired of running one parallel to a laydown and waiting for it to get heavy.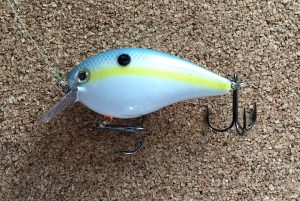 Strike King KVD Rattling Squarebill (sexy shad)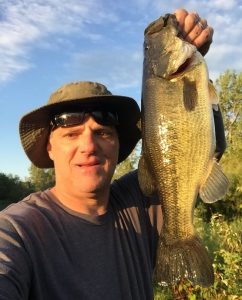 2017 Top Crankbait Bass (see below)
Crankbaits
Strike King Rattling Squarebill, Mann's Baby 1-, Rapala Shad Rap – 66 bass
Top Bass: 18" 3-8 September 2 Knox County, IL public strip mine
Comments: Yet another type of bait that generally lets me fish fast and the models I use also keep me relatively shallow (eight feet or less). Too slow and I get antsy, too deep and I lose my edge so the crankbaits noted above represent my confidence baits and they came through yet again with a decent haul.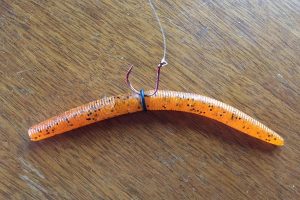 Senko wacky rig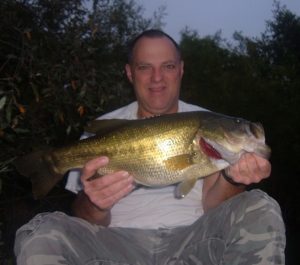 2017 Top Senko Bass (see below)
Plastic Worms
Senko wacky rig (weighted and unweighted), Senko Texas rig – 103 bass
Top Bass: 22" 5-11 August 21 Little John Conservation Club Senko wacky rig
Comments: Since I first plunged into the odd looking world of the wacky rig back in 2005, I've always had a Senko on a pole when I hit the water. And this year it paid off again with the highlight being an "Eclipse Day" beast that established a new personal Senko best just before a storm rolled in and sent me packing. If you aren't fishing wacky, you are missing out on some serious action.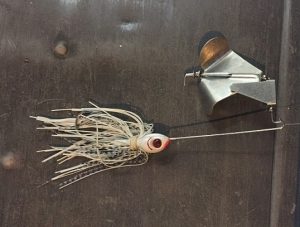 Booyah Buzz Buzzbait (snow white shad)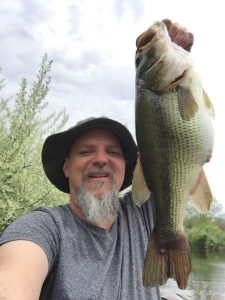 2017 Top Buzzbait Bass (see below)
Buzzbaits
Booyah Buzz – 134 bass
Top Bass: 22" 5-9 April 25 Little John Conservation Club
Comments: Can you say addictive? Buzzbait bassing kicked into gear on April 25 last year and once it got going, I wore it out. The buzzbait Top Bass of 2017 was my second catch of the year on the bait and fell one ounce shy of tying my buzzbait personal best. Lots of decent bass in the haul including a second five-pounder and a Top 5 of 18-6 on the lure. And I lost a pair at the boat that were at least four-pounders, scout's honor.  Literally and figuratively, a blast.
So, there you have it on the lures. The next piece of the series will take a look at location, headed your way soon, hope you'll tune in. Talk to you later. Troy