Do you know how many bass lures I've amassed over the last 35 years or so?
Yeah, me neither. Probably don't want to know.
Any guess on how many lures I used in 2017 to fool over 400 bass?
Well, stay tuned over the next two days, because I'm going to tell you.
We'll start from the bottom of the list (fewest bass caught) and move up to the heavy hitters from there.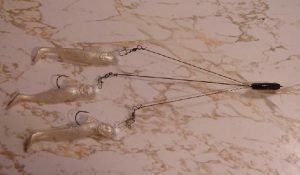 Alabama Rig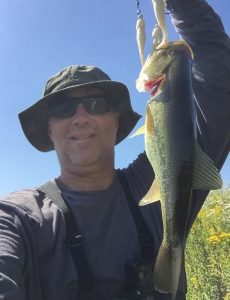 Alabama Rig Top Bass (details below)
Alabama Rig
Yumbrella 3-wire rig (Tennessee Shad with white swimbaits) – 1 bass
Top Bass: 13.5" 1-1 September 9 Knox County, IL public strip mine
Comments: This was a Resolution and it was fulfilled on 9/9 complete with a video and then I put the thing back in the tacklebox.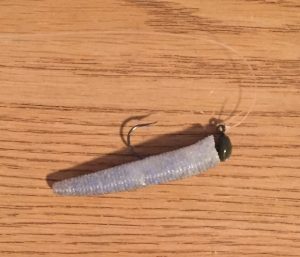 Ned Rig
Grubs
Arkie DeD Stand-up Jig head (green pumpkin) with Senko tail (electric shad) – 1 bass
Top Bass: 11" March 26 Knox County, IL public strip mine
Comments: Billed as a "Ned Rig", this is a reputed cold water killer according to glossy magazines. It came through for me on 3/26 by enticing a bass that followed my jig & pig to the shore before losing interest and disappearing back into the depths. A cast beyond where the bass disappeared was enough to get a bite as the tidbit slowly drifted past.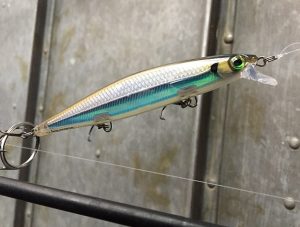 Rapala Shadow Rap
Jerkbaits
Rapala Shadow Rap (blueback herring) – 1 bass
Top Bass: 10.5" October 8 Knox County, IL public strip mine
Comments: This lure is supposed to be quite effective in cold water conditions for those who know what they are doing and can exercise the patience needed for a retrieve often requiring lengthy pauses. Nope and nope for this angler but I was able to fool a lone bass on 10/8 with a more rapid retrieve before conditions got too chilly and slowed down the fish.


Chatterbait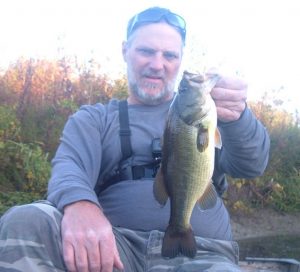 Chatterbait Top Bass
Chatterbaits
Chatterbait (bluegill) with swimbait trailer (watermelon) – 2 bass
Top Bass: 14" 1-7 October 8 Knox County, IL public strip mine
Comments: I know a good collection of anglers swear by these baits but I've rarely given them much of a shot as I'm usually dialed in on something else (see Part II of this wrap-up). Fooled one bass in April and one in October but didn't really need this weapon anytime in between.

Underspin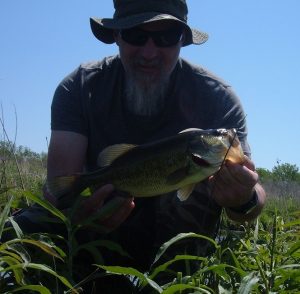 Underspin Top Bass
Underspins
Fish Head Underspin (white) with 4" Keitech Swing Impact (electric shad) – 2 bass
Top Bass: 15" 1-9 May 13 Knox County, IL public strip mine
Comments: Much like the chatterbait, I've seen some eye opening catches on these types of lures but never given much more than a few casts myself, thus some pretty meager results.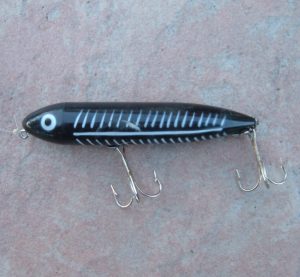 Stickbait – Zara Spook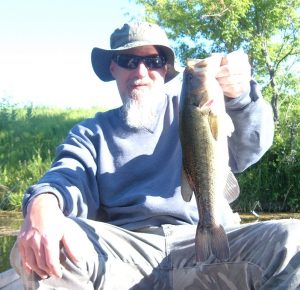 Stickbait Top Bass
Stickbaits
Zara Spook (black shore minnow) – 3 bass
Top Bass: 16.5" 1-11 May 30 Knox County, IL public strip mine
Comments: Me and The Spook go back to the mid-80s and I could write a whole chapter in a fishing book about this bait and its impact. Not only in terms of numbers back in the day but also what it meant to me and my brother, Brent, when we were bitten by the bass fishing bug. All three of these bass came on May 30 while searching for that big bite that The Spook can produce but the best it could muster was a 1-11. Good to reconnect with an old friend, however, still remember how to "walk the dog."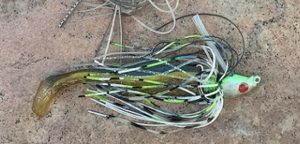 Swim Jig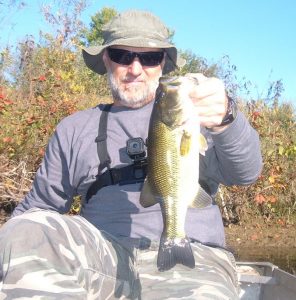 Swim Jig Top Bass
Swim Jigs
Swim Jig (sexy shad) with hammertail trailer – 4 bass
Top Bass: 14" 1-9 October 8 Knox County, IL public strip mine
Comments: Not sure on the model but this may be a bait fashioned by Illinois smallmouth catcher, Jonn Graham. At any rate, this was another Resolution and it came through with flying colors on 10/8 when the bite on anything else completely shut down at mid-morning.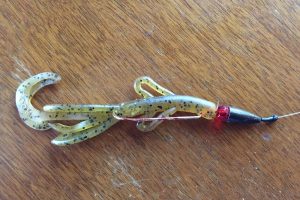 Creature Bait – Zoom Baby Brush Hog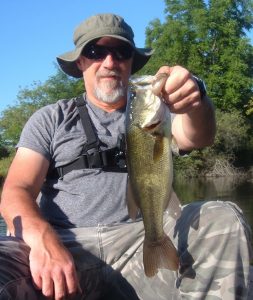 Creature Bait Top Bass
Creature Baits
Zoom Baby Brush Hog (green pumpkin) – 5 bass
Top Bass: 15" 1-5 July 30 Little John Conservation Club
Comments: Similar to the jig & pig it's fun to feel that telltale tap and lay down the hammer on 'em when fishing this bait. Bad thing is, it's a slower type presentation and that's not really in my wheelhouse. If I can get away with fishing fast that is what I do so the brush hog only got a brief workout but fun to revisit an old friend that has been a solid producer over the years.
That wraps up Part I with a look at the lures that fooled a handful of scattered fish or had a particular day where they pinch hit and got bit. Part II features the baits that got a heavier workout while reeling in a darn good bunch of bass both in terms of quantity and quality. Stop by tomorrow for some pretty serious "confidence baits." Talk to you later. Troy