Today's clip features a catch from October 8 on a public Knox County, IL strip mine pothole. It was one of sixteen bass landed in just over four hours on the water with the first eleven coming from this spot during my first two hours of casting. If you do the math on this first stop that equates to 5.5 bass per hour which is really pretty darn good.
Now here's the weird thing about this borderline feeding frenzy.
Those eleven bass came on six different lures. It was truly a bizarre sort of buffet as the bass never really showed a preference for a particular presentation yet still proved to be cooperative if I was willing to keep my lure choices rather dynamic.

Here's the menu for this ever changing fall feeding frenzy, 8 lures = 16 bass
What was also puzzling was that I was all in at the start to nab some on an old topwater favorite, the Zara Spook, and never got the slightest hint of interest. And after five minutes of that I put it down in favor of a chatterbait. Four casts later I had the fish in this clip after a pair of short strikes on two of the previous casts. Sure seemed like they were taking a liking to the chatterbait.
Nope, couldn't coax another bite the rest of the time on this spot. However, I did continue to catch bass as evidenced by the snip from the log entry below. Briefly got them dialed in on a Mann's Baby 1- crankbait and a Swim Jig but those flurries were fleeting as well.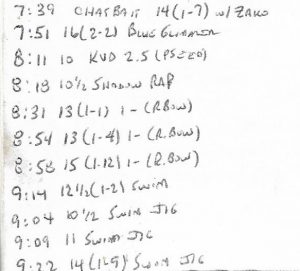 In the end I was quite pleased with the overall results on this relatively unfamiliar pothole as it was indeed a productive stop. I also gave myself a pat on the back for being diverse in my offerings and changing up when my "can't miss" baits (Red Eye Shad lipless crank and Senko wacky rig) only got the interest of one bass.
In assessing my day on the ride home, I found myself envisioning one of those old silly tricks we used to do as a kid. That old rub your stomach and pat your head routine, except this time it was more like pat your back and scratch your head. A fair amount of both occur with this interesting hobby and actually kind of a fun challenge when they coincide. Talk to you later. Troy