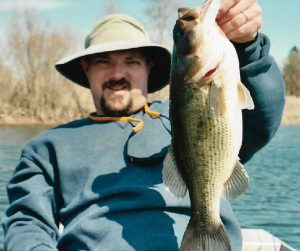 3/26/2003 Emstrom's Pond 3-3 Jig & Pig
Boy, I miss the days of a having permission to fish a pond that took about three minutes to drive to from my folks house where we kept our little johnboat. But while some things have changed, several items in this photo have not.
But first, the stats on the day.
Date: March 26, 2003
Location: Emstrom's Pond – west of Galesburg, IL
Time: 12:55pm-2:55pm
Weather: Sunny/windy (from west)
Air Temp: 60F
Water Temp: 51F
Totals: 2 bass
Lures: ¼ oz. Jig (black/blue) with #11G pork frog (black/blue glitter)
Top Bass: 3-3 (19.5") Jig & Pig
Weight: 5-1 (3-3,1-14)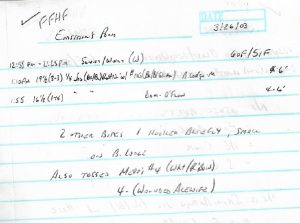 Actual log entry from this outing
Still fishing out of that same old boat.
Still got that sweatshirt, think I'm wearing it today, in fact.
Still a fan of the old IronMan watch and a watch in general instead of a "phone."
Still got the ring, of course.
Still sporting a floppy hat, got this one in the garage as I'm now on FloppyV.2.0.
Still sporting a beard/goatee although something looks a little different these days. Can't quite put my finger on it. Shaggier, perhaps?
Still shooting selfies these days, albeit with that "phone" as well as a camera.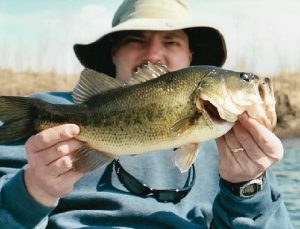 3/26/03 Emstrom's Pond 1-14 Jig & Pig
And still happy to land a good fish, almost smiling in the photo where the bass isn't hiding my face. I have tried to change that pose over the years, for better or worse. Talk to you later. Troy