"He was caught on a summer day, 2017…Oh, what a lonely bass, oh, what a lonely bass, oh, what a lonely bass." – Andrew Gold (sort of), Lonely Boy (1977), click here for YouTube video of this 70's classic after you read this blog entry.
Hey, every once in a while inspiration hits me prompting the inclusion of some of my good, old song lyrics. Hadn't went there for a while and woke up the other day with this song and Video #4 on a loop in my head. Guess this blogging thing gets a little obsessive at times but sure beats waking up thinking about how to resolve some sort of technology issue. Get to do that all week so nice to find that the imagination can still intervene on the weekend.
Anyhow, today's video features what is certainly a less than impressive bass but boy did it save the day. (Note: my tentative title for this piece was "Mighty Bass" as a play on the old Mighty Mouse cartoon. "Here I come to save the day", right? Tough to say what was the better direction but I elected to go with the guy who penned The Golden Girls theme song. How's that for some useless trivia?)
This catch came on 7/25/17 at 8:31pm from Iowa's Lost Grove Lake and was the only fish I caught the entire evening in just over two hours of fishing. A 10" trophy for me in avoiding an embarrassing summertime shutout. I was so pleased to get on the board that I shot a picture, rowed to the ramp and called it a night. I figured that there was no better way to end a tough day than with being able to claim a last cast bass.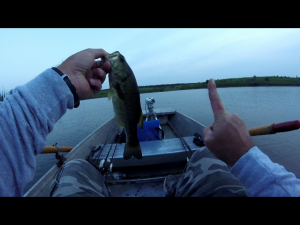 And I should probably end this post right now as well.
Instead, I'll push my luck and wrap it up with an assist from some classic "lonely lyrics." (Answers on the lyrics below my sign off and feel free to add any comments on a lyric that would also fit the bill.)
On the water you will inevitably have some "lonely days" (1) or a "lonely night" (2). But even if "it's a lonely ol' night" (3) "don't you ever be ashamed" (4) if you can't get the fish to cooperate. Instead, "if you just ask the lonely" (5) bass perhaps he can point you towards a few of his friends.
Ok, maybe too much. Talk to you later. Troy
1. Lonely Days – Bee Gees, 1970
2. Lonely Night (Angel Face) – Captain & Tennille, 1976
3. Lonely Ol' Night – John Cougar Mellencamp, 1985
4. J.D. Souther – You're Only Lonely, 1977
5. Ask the Lonely – Journey, 1983