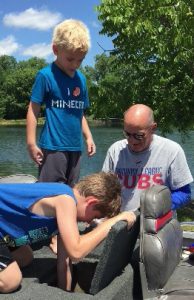 You ever see one of those fancy bass tourneys where the anglers dig around in the livewell to fill their bag for the weigh-in and triumphantly thrust their largest catch into the air triggering the adulation of thousands of fans?
Well, this wasn't quite like that.
For one thing, we were bluegill fishing. For another thing, we had just pulled the boat out of the lake via a gravel and grass boat ramp. And, oh yeah, there wasn't another soul in sight for our fishing trip finale and video shoot.
Nope, this was a pretty low key affair but with a couple high energy young anglers in tow and some high strung bluegill in the livewell it got rather exciting. You see, fishing some feisty, slimy bluegills out of a partially drained livewell can present a challenge as they don't quite have the handy handle like a largemouth bass lip. Even with little hands it still not a lot to grasp.
And here's the kicker, this particular bluegill had a rough time when getting unhooked sustaining some considerable damage to its lip. As a result, Jayce and Zac had taken to referring to this particular catch as "No Lip."
Well, when old "No Lip" was snatched from the livewell it appeared as if he was in the mood to get a little revenge. As Papa notes in the video, those bluegill have some pretty stiff fins that can inflict a bit of pain or even draw blood if they get you good while flopping around. And in Jayce's case in this clip, there was more than the typical finger stick at stake. Let's just say a bit more tender.
We all continue to get a laugh from this video at the expense of that poor bluegill. Just gets you tickled to hear a kid so excited and even better when that excitement arises from the hijinks on a fishing trip. Talk to you later. Troy