Sure was ready for Opening Day of Major League Baseball last Thursday as it's been a long off-season without a World Series title to bask in for the first time since 2016. Still feels good to mention World Series as it pertains to the Cubs.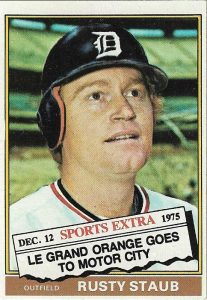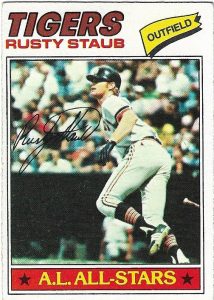 Got to dig through the old baseball card collection for these, left to right 1975, 1976 Traded and 1977 Topps
However, during the afternoon of Opening Day my boss informed of the passing of an old ballplayer, Rusty Staub, at age 73. And for this soon to be 51 year old baseball fan, Staub spanned a great deal of my "Golden Age" of baseball. I suppose every fan has such an era and I would have to say mine spans from probably about 1973 when I seem to recall Dad bringing me home my first Topps baseball cards until roughly 1986 when I got "too old" to collect them anymore. Now, I still dig baseball but that time period just seems a bit more special.
And Staub graced the field during nearly that entire time frame (as well as before) with a 23 year career spanning 1963 to 1985. In 1969 he joined the expansion Montreal Expos franchise where he was a fan favorite and was bestowed with the nickname "Le Grande Orange" as he indeed was a big redhead.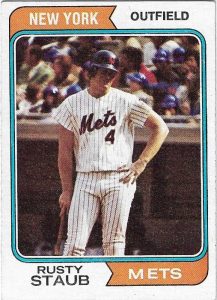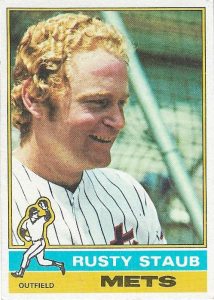 More from the collection, left to right 1971, 1974 and 1976 (tough to decide 74's pose or 76's hair as my favorite Staub card)
So, as a baseball fan and a fisherman I felt it befitting to pay my own tribute to a fellow who was larger than life to this kid from the 70s. As such I set out on my March 31 fishing trip with a starting lineup of lures dedicated to red or orange color schemes. The mission was to fool a bass in honor of Daniel "Rusty" Staub (never actually knew his real name until his passing despite it being right there on the back of all of these baseball cards).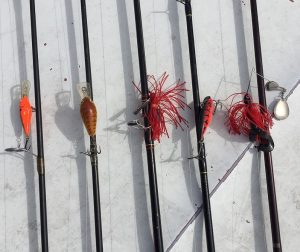 The "Le Grande Orange" lineup
I began casting with my themed arsenal at around 2:15pm running through each and every one in addition to a rusty colored Chatterbait without a single bite for nearly an hour. But at 3:10pm a cast near a downed tree with an old Rapala Fat Rap (crawdad color) provided me with my first hit and busted up the shutout. This particular lure could qualify as an antique as it was purchased in the late 80s and last caught a bass in 1999 according to my logs. So kind of cool in that respect as well that an old-timer came through pinch-hitting in the clutch on a day with less than ideal cold front conditions.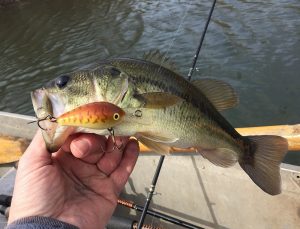 The "Le Grande Orange" catch
Mission accomplished and I resumed my normal habits and color schemes which weren't really much more productive than the orange/red arsenal. However, I found it to be an interesting project although it arose from unfortunate circumstance.
Along the way it was also interesting to revisit some internet video of Staub as well as getting my stat fix in reviewing his career. One particular stat stuck out, for when my boss informed that Staub had passed away I stated, "Man, he was quite a hitter, had around 2,700 hits or so." Ballpark guess but turns out I may have shorted him a few if you want to get technical as it was 2,716.
Just another reinforcement of the imprint that baseball left in my childhood and continues to this day. Kind of like fishing. And just as fishing takes on all shapes and sizes so does baseball. Staub epitomized that aspect as his career progressed, he wasn't fast, not particularly graceful, no flash, just could flat out hit. On top of that, he seemed like a genuinely good man in reading of his accomplishments and hearing friends and teammates share their memories. Why, I almost got to liking Keith Hernandez as he spoke fondly of his friend, Rusty Staub. That says a lot about the man. Talk to you later. Troy