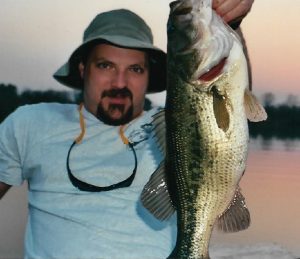 The Friday Flashback series plows ahead into a new month with another visit to an old fishing hole. Below is the original fishing report sent out to family and friends back on April 11, 2003, the same evening that I fooled the fish pictured above.
"Finally, some decent weather coinciding with some free time. After working first shift and following dinner, I had a couple hours before darkness settled in so I couldn't pass up a trip to Emstrom's Pond to try and fool a few bass. The recent warming trend gave me high hopes and I wasn't disappointed. An hour and a half produced six bass including a new record for 2003. A 4-10 engulfed my Rapala Rattlin' Rap (brown craw) as I worked it across a shallow flat. This area had seen a lot of baitfish, shiner or bluegill movement about a half hour prior to catching this bass. In fact, there had been a very large swirl and a scattering of small fish in its wake as I worked this area earlier. A couple cranks into my retrieve during my second pass in this area and a fish slammed my lure. After a pair of jumps at boatside, the bass was securely in my grasp with both treble hooks embedded firmly in its lower jaw. It was the last bite I had as darkness rolled in about ten minutes later and I headed for home."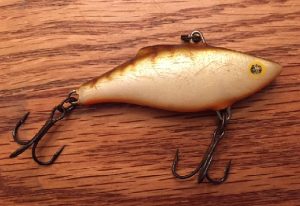 The Lure – still got it and dig the battle scars although I haven't thrown it for years as lipless crankbait allegiance has turned to the Red Eye Shad.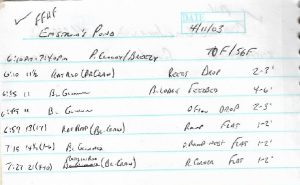 The original log entry from this outing
Fifteen years later and decent weather and free time have been pretty tough to come by in 2018. Still looking for a bass of this quality as well as I currently sit at 2-6 for my Top Bass this year among the ten bass in the log from a pair of outings and just under eight hours on the water.
Sooner or later, I'm bound to get some good weather, some free time and some big bass. Not too much to ask, right? Maybe next week. Stay tuned and talk to you later. Troy