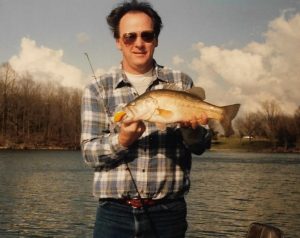 Today's flashback goes back 30 years and features a bass reeled in by Dad from one of our favorite haunts, Lake Storey, located just north of Galesburg, IL. This one tipped the scales at 4-6 and came on a deep diving crankbait, says so right there on the back of the pic in my photo album.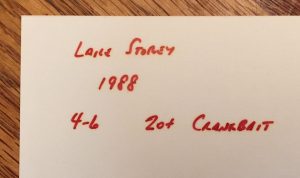 Details from back of photo and etched in my mind
Although I really didn't need to peek for those details as I knew all of that already. I was there on the other side of the camera that day and with that piscatorial photographic memory thing I'm afflicted with, well, a good catch kind of gets embedded upstairs.
As does a good "fish story", and this one certainly qualifies.
We'll start with Dad's new bass boat that he purchased in 1987. This bass would have represented the boat record at that time as Dad devoted a fair amount of those early days to chasing some catfish on the Mississippi. Don't imagine that it took much arm twisting from one of his boys to ditch the muddy water for the green tinted Lake Storey and it paid off quite well for him.
And speaking of Lake Storey, this was also likely the family lake record bass at the time and still stands in the Top 5 all these years later.  By the way, I also remember exactly where he caught it as I'm sure he does too.  But a good fish story has to maintain a little mystery, so I'm not telling.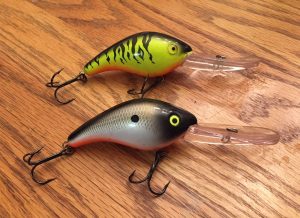 These Mann's 20+ models, that still reside in my tackle, reached unheard of depths for crankbaits when they hit the market back in the 80s.
The lure is also an interesting piece of the tale as it was a revolution in bass fishing at the time. You see, the Mann's 20+ series deep diving crankbaits were pushing crankbaits to a whole new depth range and potentially putting a pair of trebles in front of bass who'd never seen such a thing.
Which brings us to the catch, which could only see out of one eye. If you take a look at the close up of the original photo below it is apparent that Dad's catch indeed was half blind. Now, since I was on the photographing side of this story, I gave Dad a hard time for fooling this poor fish who obviously had some health concerns and was at a disadvantage when it came to discerning a real meal from a fake one. Of course, as the guy who nabbed the bass, Dad countered with "do you know how much skill it takes to catch a fish who can only see out of one eye?" Certainly a matter of perspective, perhaps coupled with a bit of envy.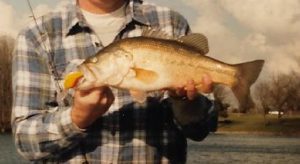 "The One-Eyed Bass" – a classic fish story still told 30 years later
Somehow this trip eluded the log so I have no idea what else was caught or if the photographer even landed a bass. What is also fun to laugh about all these years later is that I don't recall either of us ever catching another bass on one of those Mann's 20+ crankbaits. Thus not only "one-eyed" but one of a kind. Talk to you later. Troy