No superstition here to interfere with a Friday the 13th fishing trip last week. In fact, with the first three consecutive days of warm temps all year around here, it was fishing or bust. Friday was forecast as the tail end of the brief glimpse of spring so it was time for a vacation day for some Knox County, IL strip mine hiking. Turned out that the bass were ready for some warm, stable weather as well.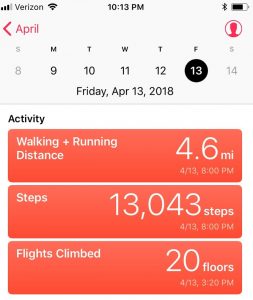 Still worth going the distance for a solid bite
Stats
Date: April 13, 2018
Location: Knox County, IL public, walk-in strip pits
Time: 6:55am-3:45pm (6 hours fishing, the rest walking)
Weather: Partly cloudy to overcast/windy to excessively windy
Air Temp: 53F-68F
Totals: 60 bass, 1 crappie
Lures:
Strike King KVD 2.5 Rattling Squarebill crankbait (sexy shad) – 32 bass
Booyah Blade Spinnerbait (white chartreuse) – 15 bass
Strike King Red Eye Shad (sexy shad) – 13 bass
Top Bass: 2-9 Strike King KVD 2.5 Rattling Squarebill
Top 5 Weight: 10-4 (2-9,2-3,2-0,1-13,1-11)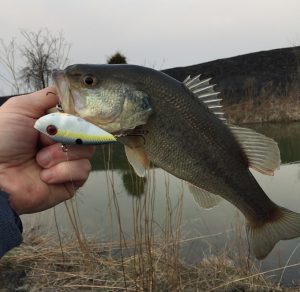 7:31am – First bass and only the beginning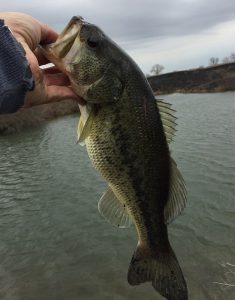 11:44am – 14.5″ 1-13 Lipless crankbait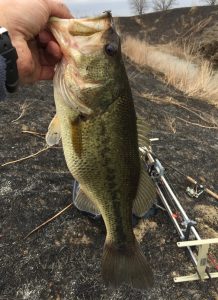 12:17pm – 16″ 2-3 Spinnerbait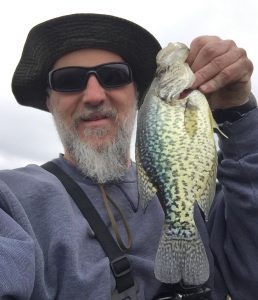 Cool accident with a 12″ crappie on the lipless crankbait
Notes and Nonsense
The Conditions – A pleasant surprise upon arrival was the blackened, barren landscape resultant of a controlled burn on most of the area. I'll have a closer look at this aspect of the outing in a future post but the main point is that walking was much less taxing as a result. Partly cloudy to overcast skies were also welcome as most of the fishing holes lie on the clear end of the water clarity spectrum. Wind was also a welcome feature although it got pretty crazy at times with reported gusts exceeding 35 miles per hour. All of these factors combined with a third day of warming temps that would top out in the upper 60s made for all I could ask for as an angler confined to the bank.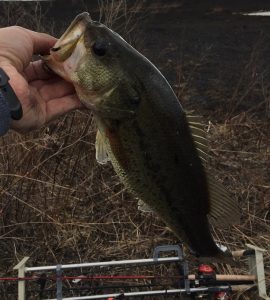 12:58pm – 15″ 1-11 Crankbait
The Plan – I had six lakes that were on the must see list based on past results along with just kind of poking around on others as I made my trek around the ground. Of the six targets, five produced well while the sixth only got a passing shot due to time constraints and limited bank access with the water level higher than normal. All told I cast on over a dozen spots and landed a bass on ten of them. It is my sixth year fishing this area and still plenty to learn as to which of the two dozen plus lakes sustain a healthy bass population if any at all. Tough call to focus on old faithful or seek out a hidden gem when faced with limited time and energy.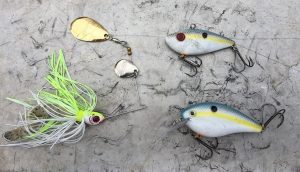 Turned out to be all I needed, took lots more lures though, as always
The Lures – I weighed my tacklebag just for fun after the trip to find it came in just barely under ten pounds. While not all of the weight is attributed to lures, I did pack along what would qualify as more than enough. While I lugged all of that gear over four miles, I wound up catching all of my bass on only three lures, the heaviest of which weighs in at 5/8 oz. So, less than two ounces of all that tackle actually produced and honestly there wasn't much reason to change as this trio did just fine. I also packed along seven poles and just like the lures, caught bass on three of them. Undeniable evidence that I habitually take too much stuff but you just never know. Even if it's only got a slim shot of being used or producing, that shot is still better than if it is sitting home in my garage.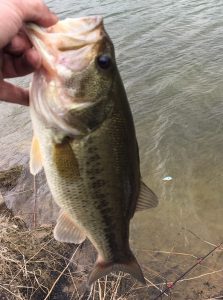 1:04pm – 16.5″ 2-0 Crankbait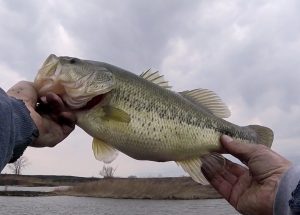 1:30pm – Top Bass 17″ 2-9 Spinnerbait
The Results – A 60 bass day is always a winner and certainly welcome in a year that has been rather unfavorable in terms of weather after a couple weird, warm February days. Along the way I was able to give my 2018 Top 5 a solid boost and exceed double digits on my Top 5 for the day. The four pounders I've encountered on some of these waters in the past eluded me and I just hope that they are still out there and haven't found their way onto somebody's stringer. Fair game I suppose if they have, just not my approach.
Windblown Video #1 – 2-0 catch (apologies for noise)
Windblown Video #2 – 2-9 catch (apologies for noise)
Hope to get back out at least one more time to chase the bass before April passes but time will tell. And how's this for more of a nasty start to 2018? I began typing the rough draft of this report on Sunday April 15 and it was 30 degrees and snowing pretty good (which is really bad). And as I hit submit tonight (April 17) there's a winter weather advisory beginning in about eight hours. Enough already! Talk to you later. Troy