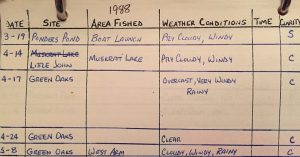 Smack dab in the middle of this old sample of my 1988 fishing log lies an entry from this week featuring a place called "Green Oaks." The spot still holds many memories 30 years later. Some of those memories I remember and some it's probably better off that I don't as the spot wasn't just about fishing for me and some college buddies.
You see, this area was the field station for Knox College and it also featured a rather primitive campsite just uphill from the lone decent stretch of bank access on the lake. Couldn't ask for a better set up for some college fellows who enjoyed fishing, camping and more than a few beverages. Bonfire sized campfires, beer, fresh bluegill fillets, beer, Guns N' Roses (Appetite for Destruction) and Steve Earle (Guitar Town) on the tape deck of a boom box and little more beer. Those were the days.
Sometimes hard to believe it was 30 years ago but that's how it goes.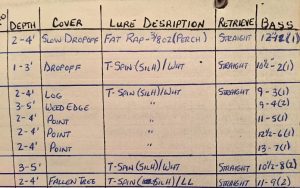 Further snip from the original log entry featuring some old confidence baits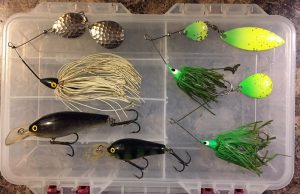 And, believe it or not, some of those baits are still in my collection, rotten skirts and all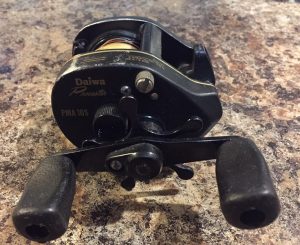 My original baitcasting reel used on this trip, always thought it would be fun to get repaired for a few more casts
There's just not many pics from those days and like some of the lost memories, I suppose that could be a good thing. Don't know if my buddies have any photo documentation but I guess it would be interesting to see. You guys know who you are and where to find me if you've got anything to share for a future post on this great place to getaway. I've included some related pics of what I suppose are antiques these days, some of the old tackle I've still got stashed away. I guess there was a reason to keep that stuff after all.
In addition to Green Oaks, the log also features a couple other classic fishing holes from the formative days of this bass fishing thing that's still going strong. We'll revisit those spots before this whole Flashback series wraps up so keep stopping by every Friday.
A young, future blogger in his Knox Siwash baseball cap releasing a Green Oaks trophy.  We'll see them both again on a Friday in August.
And one last note, if anybody knows a way to get an alumnus into Green Oaks for a reunion with a favorite old fishing hole, drop me a line. Seems alumni can take in the sights that the site has to offer but have to leave the fishing poles at home. Talk to you later. Troy