I had a shot at getting in a few hours on the water this morning and guess what I did?
Yep, I slept in, instead.
Turned out that conditions looked halfway decent though during one of the regular times I woke up. Around 6:00am there were overcast skies and a slight breeze on the heels of what looked to have been some showers. Now, as I put this post together, the sun has come on full force and the breeze has picked up with temperatures rising into the low 70s. Overall, a darn good morning to fish.
Thus, passing up my chance kind of has me wondering if I made a good decision. In addition, as I profess to be such a fan of this hobby, I started to ponder "Am I a Bad Fisherman?"
Nothing to do with skill set and bad habits, this question revolves solely around dedication.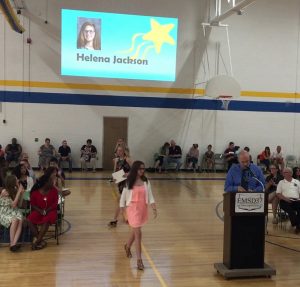 May 23 – Helena "Night of the Stars" awards for 8th grade
Yesterday was just another of our crazy May days with the mind and body on full throttle from 6:00am until 10:00pm with a full slate of work and family activity. As a result, I had nothing prepared for an anticipated sunrise first cast and frankly, I was just plain wore out.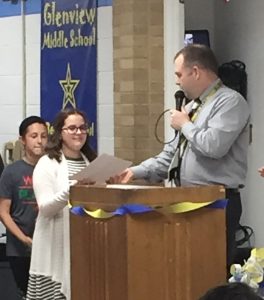 May 14 – Our oboist, Carly, recognized for a job well done in the Glenview Beginner Band
Now, May is among the lengthiest months at 31 days so there should be ample time to fit everything in right? Well, here's my list of excuses leading up to fatigue winning over fishing with a list of all of our May commitments below (probably even forgot to include a few).
13 baseball practices or games (helping coach too)
7 Tae Kwon Do lessons
3 Graduation activities (ceremonies or parties)
3 Birthday activities
3 Oboe lessons
3 Color Guard practices
2 Musicals/plays
2 Band activities (concert and awards)
2 End of year school awards ceremonies
2 Tutoring sessions
2 Field trips
2 Kid fishing trips
1 JDRF walk
1 Kid fun run
1 Wedding
1 Bridal shower
1 Moving day assistance
1 Mother's Day (Julie hasn't been fishing for years so guess I've actually got it made)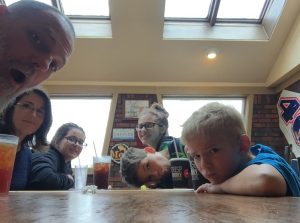 Mother's Day at Pizza Hut with all the folks who make Julie a Mom
Interspersed through today's post I have included the reasons why it is okay to be a "bad" fisherman when it comes to skipping out on an opportunity. Better to invest your time in doing your best to be a good spouse, parent, family member, friend, employee and so on. I dig fishing and would love to do it anytime I could. Well, except for this morning and the rest of those items above result in being just flat out wore out come Friday night/Saturday morning.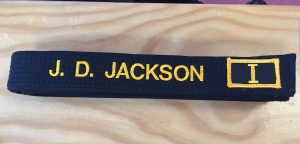 May 21 – Jayce's black belt now hangs in the studio as incentive to work hard for the next six months 
Oh yeah, I nearly forgot that there was also a Grandparents Day for the boys at school with my folks. Of course, I didn't have to worry about anything associated with that gig but got me to thinking that I should ask my parents, "Why didn't you warn me about what lie on the horizon?" Actually, they did, by example, you just roll with taking care of everybody. I was just too busy with my own activities to comprehend that their world also revolved around a total of four kids. Funny how this has all turned out.
May 1 – Silvis Cub, Zac (3B), reminiscent of Kris Bryant, Ron Santo or perhaps a Knox College Siwash fellow who manned the "hot corner" in the 80s.
Okay, time to end this well rested rant, feels good and kind of recharged for the home stretch of this wild month. Actually get an extended weekend as well, so perhaps I can make it up to the fish for leaving them hanging this morning. Talk to you later. Troy