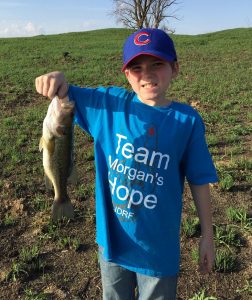 We interrupt our regularly scheduled Top 5 Update (will appear tomorrow) to wish one of my co-anglers a Happy Birthday.
(Note: also wish to give thanks to those we honor on this Memorial Day. Much debate over the state of our country these days but no place I would rather live. I found it a welcome sight when driving through a local main street yesterday as it was lined with flags and littered with the lawn chairs of folks reserving a spot for the upcoming parade. I leave the bickering for other social media spots and keep my website dialed into a positive vibe so I'll just say that it made me feel good and I'll leave it at that.)
Today marks birthday number 9 for our oldest boy, Jayce, and as always I can come up with an outdoor tale to pass along. In this case, I got a little help on what to post courtesy of a birthday gift that Jayce received from his Uncle Brent during a family celebration yesterday.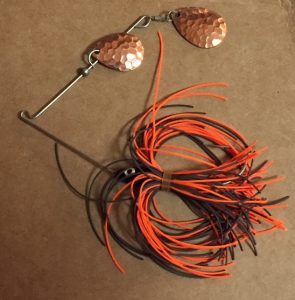 The spinnerbait pictured above is the latest version of something that I dubbed "The Emiquon Special" after watching Brent wield it en route to a 98 bass day on his first ever visit to The Emiquon Preserve back on October 7, 2009. While not all 98 of his bass fell to this legendary bait, it caught the vast majority and his final flourish in pursuit of the century mark had me setting down my rod and reel to simply watch the spectacle. Anyway, there's actually a little more to the story as Brent's use of this spinnerbait color scheme goes back to the mid-80s and over 30 years later he' still fooling them on the latest version of the bait, pics and tales for another day.
Don't know if Jayce realizes exactly what he's got a hold of with this piece of family fishing history which was handcrafted by his Uncle Brent, the angler who made it famous. Pretty cool and will be fun to watch when we put the new weapon in his arsenal to use. Spinnerbaits have a little bit more of a learning curve than the baits Jayce has already put to work primarily in the aspect that you generally need to get the bait moving shortly after it hits the water. Simply another skill for our young angler to work on and once he gets the hang of it I suspect the Emiquon Special and the bass will take care of the rest.
So, while Jayce and I wait for a chance to get on the water together for some practice, I told him that I'd just keep the lure nice and safe in my tacklebox. For you see, Uncle Brent has never made one of these for his older brother.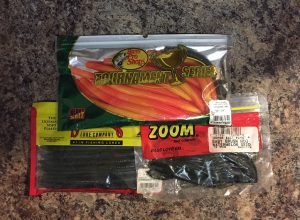 Further fishing stuff for Jayce's tacklebox courtesy of Papa
Happy Birthday to my fishing buddy Jayce.
Talk to you later. Dad