I got to wondering the other day in my "Am I a Bad Fisherman?" posting about my merit as a dedicated fisherman after choosing some much needed rest over an early morning of fishing. Well, I tried to make up for it a couple days later and wound up questioning myself yet again. A couple tentative titles for today's report were "Am I an Old Fisherman" and "Am I a Wimpy Fisherman" but I went with the standard fishing report format of location and date instead. Details below on why the alternative titles were up for consideration.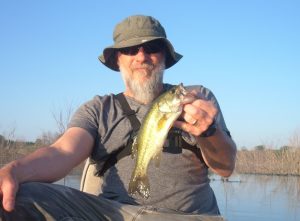 6:38am – Quick feedback with first Iowa bass of 2018
Stats
Date: May 28, 2018
Location: Lost Grove Lake, IA
Time: 6:35am-8:50am
Weather: Sunny/calm
Air Temp: 73-82F
Water Temp: no reading
Totals: 3 bass
Top Bass: 1-5 (only bass over 12")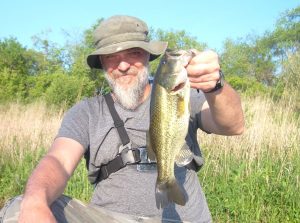 7:11am Top Bass 14″ 1-5 Buzzbait (GoPro video of the catch included below)
Notes & Nonsense
Late Night – My first error in judgment involved staying up too late and having a few cold ones when my intent was to get up at 4:45am. In the end, that poor decision making resulted in about 4.5 hours of sleep so was kind of getting off on the wrong foot from the get go.
Heat – The weather app on my phone read 73F at 6:35am as I made my first cast but it was already a hot 73 degrees. No air moving whatsoever and the effort of dragging my boat out of the back of the truck over some parking posts in a slightly elevated parking lot got the sweat flowing. Then, I had to drag the boat and gear through about 20 yards of weeds which got the heart pumping and the sweat kicked up a notch. And after that I just had roughly 400 acres of water in front of me to choose from armed with an old set of oars and an even older rower providing the power.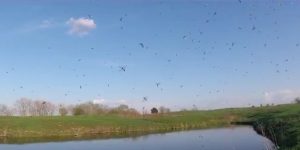 Snip from GoPro footage of abundat gnat population from earlier this year but same concept on this trip
Gnats Are Gnuts – If you have been enjoying the outdoors in my neck of the woods as of late, I am certain you are aware of the prevalence of gnats, a real bumper crop. Under the bill of my hat, on the inside of my fishing shades, in my ears, up my nose and yes, I ate a couple, just relentless. Most times you can get away from the bank and enjoy a bit of an escape but these pests were thick everywhere, flat out crazy and no fun.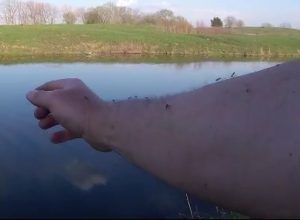 Another gnat snip just for fun
Weeds – I am accustomed to goofy, scattered weeds on this fishing hole and I hope that someday they may subside as the lake ages. No go as of yet, however, as the vegetation influenced my presentation as I went pretty much all in on a buzzbait in open water amidst the gunk. Also tried a topwater frog in spots and flipped a Senko around but only the buzzer was a winner in the calm, sunny conditions that were likely better suited for something else. A gamble I was willing to take in hopes of a big bite but didn't materialize this time around.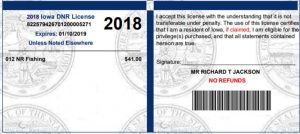 All good for Iowa and always a good thing to do the right thing as noted below
Quitting Time – By about 8:30am, the factors above had taken their toll and I headed back to my launch point to see if I could rustle up a last bite from a patch of flooded bushes and sunken culverts. No luck in 15 minutes or so and I'd come to the conclusion that my mind and body had had enough of our early arrival of summer. But before I could get off the water, an Iowa DNR truck pulled up nearby and I rowed over for a license check (legal as I should be with my internet purchase the night before). A nice fellow and he also provided a recommendation on gnat repellent though I have since forgotten what it was and only recall that he said it comes in a "green bottle." Oh well, I don't think anything works anyway.
GoPro footage of Top Bass, not a trophy but the video thing is still pretty fun
So, after just over two hours and three not so impressive bass I was headed home to celebrate a birthday with my boy, Jayce. My intent was to get in some fishing before the kids got up and moving too much but I sure thought it would be later than 8:50am when I packed it up. Just couldn't hang and hope it is only an isolated incident brought on by a combination of factors and not too early of an indication of the way things go as time moves on. Talk to you later. Troy