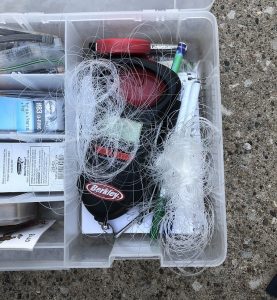 Remnants from the previous day where wind and a bad batch of line made for a mess.
This is one of those posts that a fishing blogger doesn't really want to write but should. If you're going to tell fish stories, you've got to tell the not so good with the good. This one comes from a June 4 walk-in outing and made it 2 out of 3 on the downside in regards to my latest fishing trips.
It essentially goes like this:
"I had a bad day on the water."
But, of course, I just can't leave it at that, so here we go.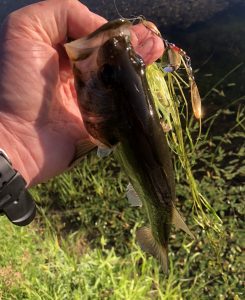 Lone bass, caught on a spinnerbait, from the abbreviated and frustrating morning
Walk-in access had deteriorated due to terrestrial weed growth and water conditions had made it darn near impossible to fish these stomping grounds due to aquatic weed growth. As a result, I wandered more than I fished.
About two hours of the former and maybe forty minutes of the latter with only a lone short bass to show for it. In addition to the site conditions, I was just kind of overwhelmed and stressed from the regular routine of work, responsibilities, budget, fatigue, sore joints from the previous day's fishing trip…
What a way to mentally and physically spend a vacation day, huh? Darn near turned the whole "worst day fishing, better than the best day working" adage on its ear. In fact, the previous night I was tempted to turn the day off back in and go to work instead. Once I got out, that feeling did not really change as I was just in a down mood. Still not sure what would have been the best decision as my afternoon upon returning home turned into a rather wasted bunch of hours trying to combat that rough mood with fitful napping.
Sure hate those kind of days and extra troubling when even fishing can't pull me out of my funk.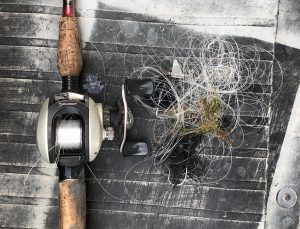 More bad line as there's a buzzbait under there that was hand lined in after undoing a backlash only to find that the line had busted as well, for the third time in two days, weird…
Even though the trip was a bust as a result of my poor mood and attitude, I always feel that you should learn something new each time you hit the water.
So, what were some lessons learned or reinforced during this challenging outing?
Lesson One: Always pack the little boat along as a backup, could've saved the day but mistakenly went all in on the walk-in. I really should know better as I have used this Plan B approach in the past, just a poor decision on this day.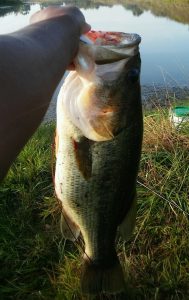 On the bright side I may have found where this one swims (see below)
Lesson Two: When stuck in a funk, just explore, as I think I found a spot for this fall or next spring. The picture above came my way in a text message last year, pushing 7 pounds and a slight reveal in the background of the photo that I have since cropped. Anyway, I believe I found it. Unfishable on this outing but plan to revisit under better conditions.
Lesson Three: Not always welcome but I still have to marvel at how nature does its thing. I knew the earlier controlled burn on the property wouldn't last but just amazing how the vegetation rebounds after that management process. And throw aquatic vegetation into the mix as well for I have never seen these waters as weed choked as this year.
Really kind of a disappointing day for a guy who just can't pack up and fish anytime he wishes. But ultimately the letdown rests squarely on my shoulders due to the combination of poor decision making and allowing a surly mood to get the best of me. As it happens, I'm over it and ready to work my way out of the fishing funk that has struck me down on two of my last three trips.
Been here and done this before and regarding such funks and I'm always taken back to a Brownsville Station lyric from their classic "Smokin' in the Boys Room."
"But I found a way to get out of 'em…"
Stay tuned and talk to you later. Troy