This week's walk down Memory Lane comes from a 2013 trip where my wife, Julie, and I got to ditch the kids for a grand total of 55 hours. Our getaway featured generous lodging at a spot called "The Doghouse" courtesy of a fellow that I became acquainted with via a former blogging gig and with whom I found to share a couple old friends.
Believe it or not, there was some fishing on the agenda with The Emiquon Preserve a forty minute drive away, Jim Edgar Panther Creek just down the road and a fishing hole known as The Virginia City Reservoir in the neighborhood.
Below are some totals and excerpts from the original fishing report postings as well as brief note regarding the look back.
Virginia City Reservoir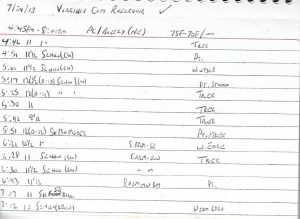 Date: July 24, 2013
Location: Virginia City Reservoir
Time: 4:45pm-8:00pm
Totals: 21 bass, 1 bluegill
Weight (4 bass at 12" or better): 3 lbs. 0 oz. (0-13, 0-12, 0-12, 0-11)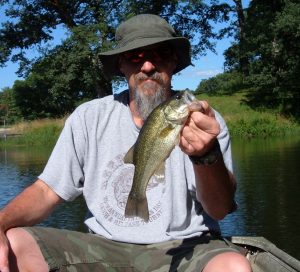 Crowd – My gut feeling was that I would have the lake to myself so I was a bit surprised to encounter a few other anglers. When I arrived there was a couple fishing from a beached pontoon and a couple hours later another pair of anglers arrived in a bass boat to try their luck. We all gave each other a wave at some point from a distance but even on a rather small lake there was still plenty of room for everyone.
(Note: turns out that the lake had actually become private property despite a few remaining IDNR sign near the ramp. Been a few times in the past that I was "unsure" whether I was trespassing or not but this time around I was honestly clueless.)
Emiquon Preserve

Date: July 25, 2013
Location: Emiquon Preserve
Time: 6:30am-9:30am
Totals: 4 bass
Weight (4 bass at 12" or better): 5 lbs. 12 oz. (1-10, 1-9, 1-5, 1-4)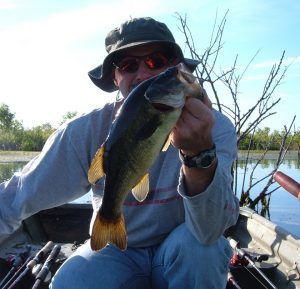 Same Place, Different Day – On July 8, Dad and I were able to fool 30 bass in five and a half hours on Emiquon. The water was clean, as clear as I'd ever seen it, there were dead carp floating everywhere and we got soaked by recurring rain showers. On July 25, the water was quite murky, there was a fair amount of floating debris, live carp were steadily thrashing about in the abundant surface vegetation and the weather was sunny with little wind, the latter being an Emiquon rarity. The first day we found them, the second day I didn't.
(Note: These were the last four bass that I caught on the legendary fishing hole and five years later, I guess the place is really a mess, perhaps on its last leg as a bass fishery. May be the last bass I ever land down there as a result.)
Jim Edgar Panther Creek – Drake Lake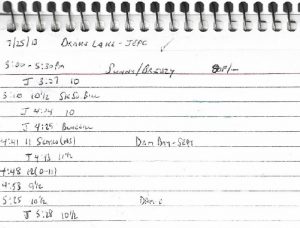 Date: July 25, 2013
Location: Drake Lake-Jim Edgar Panther Creek
Time: 3:00pm-5:30pm
Totals: 9 bass, 1 bluegill (with partner)
Weight (1 bass 12" or better): 0-11
Crankbait Girl – I make a fair amount of mental blog notes about my trips but this time I made sure to write down a favorite on the water quip. In assessing her fishing style between casts, Julie stated, "I'm a crankbait girl and you can quote that." So I did.
Perspective – While the lake harbors an abundance of small bass, the flipside is a reported quality bluegill/redear population. Such were the quarry of an angler launching as we were loading our boat in the truck. The knowledgeable fisherman described the management plan that in his estimation was working well to feed his panfish pursuit. He asked if we'd caught any panfish to which I replied, "We got one on accident." His matter of fact response was, "I catch bass on accident." To each their own in our shared fish chasing hobby.
(Note: it's fun to play fishing guide when it works out and you find some cooperative fish even if they aren't much to brag about. Besides, I guess after 11 years of marriage at the time, I must have been a "keeper" for more than my fishing/guiding skills.)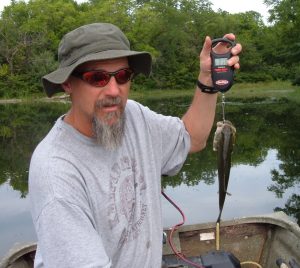 Believe it or not, that's the abridged version of the collection of stats, notes and nonsense originally submitted during the summer of 2013. As always, fun to look back at the write ups and remember what I'd forgotten. Talk to you later. Troy