Exactly one month from my last outing (Father's Day), I was back on the water with some high hopes of a significant boost to my Top 5. Been a tough start to the year for me so anything over two pounds would provide a cull. Not too tall of an order on a couple of my best spots, right? Not so fast, as the "dog days" got the best of me.
Stats
Date: July 17, 2018
Location: Knox County strip mines (2 lakes)
Time: 6:35am-9:15am
Weather: Sunny/calm to breezy
Air Temp: 63-74F
Totals: 4 bass
Lures:
Booyah Buzzbait (snow white shad) – 2 bass
Senko wacky rig (pumpkin/black flake) – 1 bass
Mann's Baby 1- (red craw) – 1 bass
Top Bass: none 12" or better
Top 5 Weight: not applicable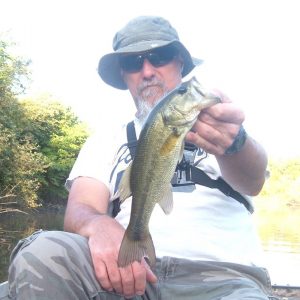 7:06am First bass and unfortunately the rest didn't get any bigger.
Notes and Nonsense
Top 5 – I've been sitting on 12-2 since reeling in my Top Bass at 3-0 back on April 22. Five trips in the books since then, including this one, and nothing to add to my total. Just looking for anything in the two to three pound slot for a bump in weight but unable to get it done.
Not Alone – I do take comfort in knowing that another of our Top 5 anglers has admitted that he too is struggling with the summer bite in limited opportunities to get on the water as well. In fact, John Kirkemo's latest submission for the weigh-in consisted of a trophy bundle of cardboard that was headed for the recycling bin. Appreciate the sense of humor during the dog days of summer where the bite and the heat can pose some challenges and perhaps even make an angler a little delirious.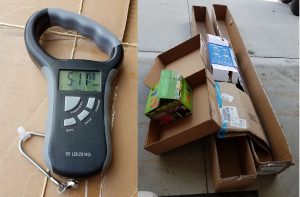 Thanks for a smile in the face of some fishing adversity.  By the way, our Top 5 is still in search of a 2018 five-pounder…
Excuses – I was kind of bummed upon arriving at my first fishing hole to find the water with a brownish tint. Been there before and don't ever recall those conditions resulting in much of a bite, let alone anything to brag about. Right on the money and after just over an hour and four short bass it was on to a second spot. And…same state of water clarity but even worse results. In fact, no bass in the boat at all. Had one on a Senko about 10 minutes into my 75 minutes on the water but it was my only bite and threw the worm on the way in.
Recap – I had the GoPro along as I usually do these days and captured all four catches "on tape" (just like to put it that way although I am aware it's the digital age). For better or worse, I've included the montage below. Even though there aren't any catches that remotely resemble "keepers", I think it's still a cool bit of technology that I never envisioned back when I was a kid. Pretty fun to fool around with making your own fishin' show, just like Bill Dance, Hank Parker, Virgil Ward, Jimmy Houston and Jerry McKinnis. Well, sorta…
Hey, I gave it another go a couple days later so back to back fishing reports this weekend. Hope you'll tune back in tomorrow. Talk to you later. Troy