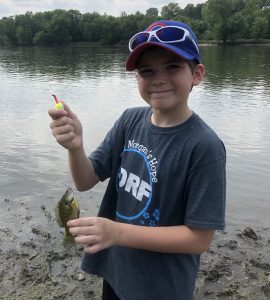 So here we are, back to school for a week or better depending on the kid and, as always, wondering just where the summer went. A summer seemingly so brief and absolutely so busy that it slipped by without the normal camping and fishing we usually manage to squeeze in.
Oh, but we did get to work in just a few other things. Like baseball, band camp, Tae Kwon Do, oboe lessons, color guard camp, birthday parties, tutoring, slumber parties, summer camp, a week of work on the road, a cleaning gig, dogsitting…you get the picture.
So, when my boy, Jayce, recently asked about getting out it was pretty much a no brainer as I knew he'd been chomping at the bit for quite some time.
We hit the local bait cooler for some waxworms for panfish and dew worms for catfish. We also picked up a missing ingredient for a doughball recipe to see if we could fool a carp as well. Finally, we grabbed a couple items of terminal tackle and a soda to complete our gear grab.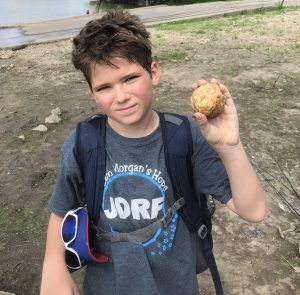 Armed with a doughball, "Papa makes them different" says Jayce.
After completing doughball prep in the kitchen and tackle rigging at the tailgate it was off to our potential multi-species destination at the confluence of the Hennepin Canal and the Rock River in Colona, Illinois.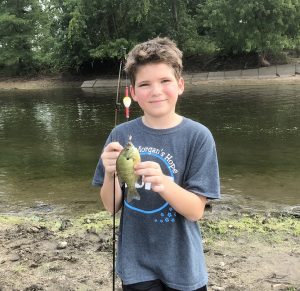 Thirty minutes later we had two bluegill on our waxworms, no bites on our doughballs or dew worms and the 90 degree heat was getting the best of my young co-angler. I could tell he was no longer feeling up to the task of chasing fish so after our second bluegill it was time to make a move. No sense in pushing it when the youngsters begin to fade so I asked Jayce if we should rebait our ultralight slip bobber rig or just call it a day. Told him I was good whatever he decided. After all, "it's kind of hot", "the fish aren't really cooperating", "we can always try it another day when the heat breaks…"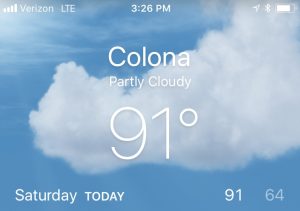 With feigned reluctance, Jayce opted to head for home and I had to grin inside as I saw the glint of relief as I seconded his decision to hit the road.
Hey, 30 minutes prowling the riverbank was just fine as such adventures are always about more than casting, reeling and catching. After all, we'd revisited the practice of making doughballs (Jayce informed me that Papa makes them with some different stuff), dumped all of our waxworms in the mud and listened to the Cubs on my trusty ancient transistor radio as we watched our poles. Throw in two fishing buddies shooting the breeze in an old pickup truck on the way to and from the fishing hole and the trip was a winner no matter the duration or the haul.
Talk to you later. Troy