…a new transistor radio.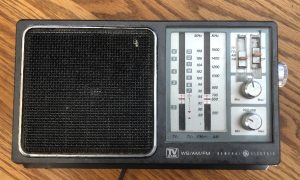 I really have no idea how old my old radio is but it's certainly old enough to say that it has seen better days. It features a busted handle, no antenna, a finicky on/off switch and a slightly corroded (but still functional) battery compartment. None of these items put it out of commission but sometimes you do have to wiggle that on/off switch to get it back in gear or sit with your finger on the broken antenna hole to get a station in tune.
So, as tough as it is to replace, the time has come. Actually, I probably won't throw the old one out but will just use it in one of the few spots that are radio free at home. The most likely location would be my little basement corner of the world where I occasionally retreat to compose and peruse my archive of logs, notes, photo albums and other stuff.
You know, if I do use that old radio for basement coverage I should pretty much have a seamless transition around our locale. You see, I'm much more of a radio than television guy as evidenced by our home featuring at least a 10:2 radio to television ratio. I can go from room to room to garage to deck to driveway to vehicle and even to bicycle without a loss of radio coverage via strategically placed devices. While I often go days or weeks without turning on the television, radio is a constant daily companion in the home and on the road and it's been that way for as long as I can remember.
I'll try not to keep you too long on these posts as I'm sure you've got better things to do. But before I sign off on this first day of Christmas, just for fun, let's have a look at my Top 11 songs that have "Radio" in the title (couldn't make a cut for a Top 10).
Top Radio Songs
11. Mexican Radio – Wall of Voodoo (1983)
"I wish I was in Tijuana, eating barbequed iguana."
10. Life Is a Rock but the Radio Rolled Me – Reunion (1974)
"Gotta turn it up louder, so my DJ told me."
9. There Ain't Nothin' Wrong with the Radio – Aaron Tippin (1992)
"The older she gets, the slower we go but there ain't nothin' wrong with the radio."
8. Turn up The Radio – Autograph (1984)
"Turn up the radio, I need the music, give me some more."
7. Do You Remember Rock and Roll Radio – The Ramones (1980)
"Do you remember lyin' in bed with the covers pulled up over your head?"
6. The Spirit of Radio – Rush (1979)
"Begin the day with a friendly voice, a companion unobtrusive."
5. Video Killed the Radio Star – The Buggles (1979)
"Lying awake intently tuning in on you."
4. Listen to the Radio – Don Williams (1982)
"The songs they play, that's how I really feel, so, listen to the radio."
3. I Watched it All on my Radio – Lionel Cartwright (1990)
"At the crack of the bat, I knew how far it'd go and I watched it all on my radio."
2. Radio Land – Michael Martin Murphey (1984)
"I remember summer evenings, late night rock and roll."
1. Radio Gaga – Queen (1984)
"Let's hope you never leave old friend."
New radio or old radio, here's to more Cubs games while rowing around the strip mines, classic Casey Kasem countdowns over breakfast at a picnic table and late night rock and roll around a campfire with one of the best old friends anyone could ask for. Talk to you later. Troy