…two Northerner boots,
and one transistor radio.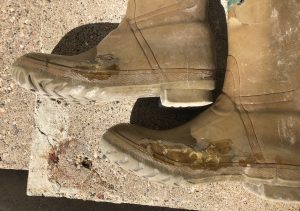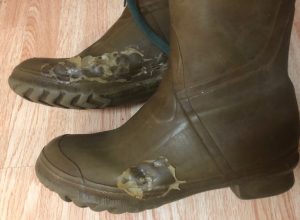 Start and finish pics of 2018 boot patching to get "one more year" out of them
This one kind of made last year's series of Christmas Wish List postings in the form of some boot patches. I must've behaved myself in 2017 as I was indeed rewarded with a tube of Shoe Goo to do the repair work.
Well, while it looked like a good idea and covered up those holes upon application, the joy was short lived. For "application" can mean a couple different things.
1. application (noun) – the action of putting something on a surface.
For instance: "On the surface, the application of Shoe Goo to the holey boots looked like a winner."
2. application (noun) – the action of putting something into operation.
For instance: "The application of the patched boots to some West Central Illinois strip mine trekking proved to be too much for the Shoe Goo."
However, if it doesn't pan out with Santa and I stick to the slightly muddy banks and avoid any water over, say, an inch or so, I might just be able to get by for another year. Kind of the way I live when it comes to "stuff" as I adhere to the "maybe one more year" approach. And in regards to these boots, several other pairs of footwear, my boat, my truck, most of my fishing reels, the majority of my wardrobe, my old radio…well, those one more years have turned into a decade or more. Talk to you later. Troy