…eight days of camping,
seven hours of sleeping,
six months of burning,
five pounds of bass,
four kids all fishing,
three weeks of winter,
two Northerner boots,
and one transistor radio.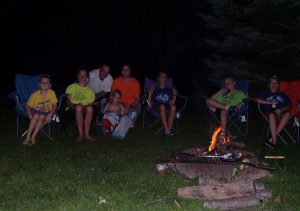 Eight campers camping…six kids in tow is the current record for me and Julie
On the heels of zero days of camping in 2018, it's time to shoot for a decent batch of outdoor overnights.
Now for the hard part.
When?
Weekends are getting progressively busier as the kids get bigger and weekdays are obviously out during the school year. Throw in that I am foolishly frugal with using my vacation days and well, it takes some work to get away.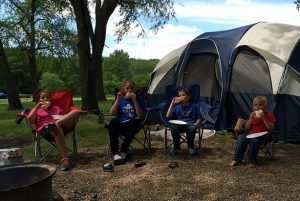 Our standard crew grubbing outside one of the two tents it takes these days
Looking back on the year, we did have a couple weekends with good intentions that got foiled. Once it was weather, as tent camping through a series of thunderstorms just isn't all that much fun. A second false start involved a kid under the weather along with a bumper crop of summertime mosquitoes (had to take my radio inside during many a Cubs game once dusk rolled in).
Maybe we're simply getting soft and hopefully not just getting old. Whatever the case, I feel a renewed commitment as I sit indoors engaged in the annual battle with Cabin Fever.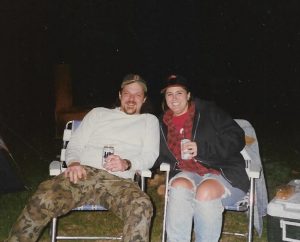 Once upon a time, this was camping…
Of course, I'll be sure to write up a recap of our adventures in the great outdoors as it usually gets a little wild. Talk to you later. Troy