…nine holes of fishing
eight nights of camping,
seven hours of sleeping,
six months of burning,
five pounds of bass,
four kids all fishing,
three weeks of winter,
two Northerner boots,
and one transistor radio.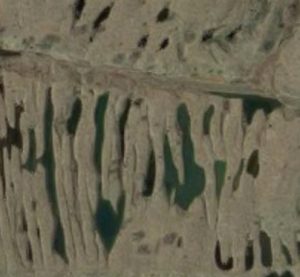 Kinda looks like a golf course layout but those are fishing holes not fairways
Once upon a time, I used to golf, even lived down the hill and just across the lake from the Lake Bracken course. Took the show on the road many times as well, hitting a couple dozen courses in the region in my "younger" years. Several of those road trips were 36-hole days to make the most of the getaway. A Lick Creek/Quail Meadows combo one day, Indian Bluff/Maple Bluff another day, Baker Park/Arrowhead Country Club another as well as Bunker Links, Laurel Greens, Gibson Woods, Weaver Ridge and so on through the 80s, 90s and early 2000s.
Since then, I've picked up my clubs twice in the last 15 years or so. It was fun while it lasted but honestly I'd much rather pack up my fishing gear these days when I get a chance to get away and goof off.
And today's posting kind of fits the golf theme as the aerial pic of some of my West Central Illinois strip mine stomping grounds kind of resembles a golf course. Quite similar too, in the fact that each fishing hole in the pic has its own personality and set of challenges.
For a number of years, I have also pondered the challenge of seeing how many different fishing holes I can nab a bass from in the course of a day. Well, nine sounded like a solid number for this day of Christmas but there is definitely potential out there for a full round of eighteen. Throw in some other fishing holes in the area and perhaps one of those old 36-hole double headers is certainly within the realm of possibility.
Stay tuned to see if this project actually tees off in 2019.
But first, the tenth day coming at you tomorrow. Talk to you later. Troy