You know all of that stuff that you learned during your formal education that you never really get to use?
Well, a blog can do wonders for bringing some of that good, old useless knowledge to the surface as one ponders a post.
"PB" was always a fun bit of trivia when it came to the Periodic Table of Elements as it strangely represented the abbreviation for lead. But, if you were a fellow with two years of high school Latin and two more semesters in college, well, it made perfect sense. Lead is plumbum, of course. (Shout out to Mrs. Buck and Professor Vander Muelen) And sticking to Latin and Chemistry, as for the "J" in today's title, there is no J in Latin thus not surprising that the letter does not appear in the Periodic Table.
Okay, enough showing off as the acronym, "PB", stands for "Personal Best" and can be applied in a number of pursuits, generally in athletics. Today it is being used in the world of bass fishing and pertains to the fish landed in the video below by my boy, Jayce, on Cinco de Mayo.
Obviously, I dig this video as it is not only an admirable catch but it also brings to mind a couple other thoughts as I watch it again. I've marked these items with arrows in the snapshot below taken from the video right as Jayce's Senko splashed down.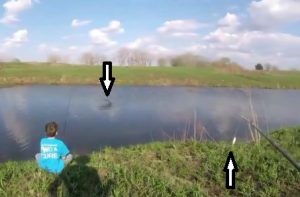 First up, I nearly blurted out that I didn't think Jayce's cast was long enough to fool a fish. Luckily, the bass struck immediately and saved me from the documented embarrassment of not minding my own business and just letting the boy fish without unnecessarily critiquing such details. He got it in the water which means he got it right.
The second item concerns the lure on the end of my pole at the lower right of the pic. For what it's worth, it's a Whopper Plopper as I was dinking around hoping to show Jayce the thrilling blast of a topwater strike. After Jayce's catch I put it away and stuck to observing and filming in between some bluegill casts. As I watched and listened to his increasing confidence I knew that it was not the time to risk lucking into a bass that would possibly knock him off of the Top Bass throne. It was his day and he was putting on a good show, he didn't need a cameo from some old wannabe bass fisherman.
Grand totals on the day saw Jayce nab six bass with a Top 5 Weight of 7-8 and a couple bonus crappie. As for me, I've never been more content to leave the lake without a bass, perfectly satisfied with eight bluegill in between playing fan, fishing guide, videographer and best of all, Dad. Talk to you later. Troy