"And I freaked 'cause the guy sitting next to me was a Martian"
Martian Boogie – Brownsville Station (1977)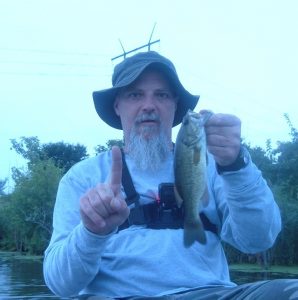 Inadvertent backdrop took me back to an old TV show
This shot was included in the Blog Banner as an example of a weird accident turned trivia opportunity that wasn't noticed until taking a closer look at the pic after the trip. These days we do have the welcome feature of immediate feedback on digital photos but I generally just give them a quick glance. I make sure the shots are in focus and that my lighting is acceptable before giving it the okay and letting the fish swim away.
In the case of this shot, it was not a particularly impressive bass but it was my first of the evening which calls for a picture. After all, while you intend to add more to the log, you just never know when those fish will get stingy and leave you without another bite. Since taking up blogging, the first fish shot has become a habit just for such a reason.
Upon having a closer look when compiling my fishing report I couldn't help but chuckle a bit at the "antennae" protruding from my floppy hat courtesy of one of the electrical towers in the background. The photobomb immediately made me think of the old sitcom My Favorite Martian that used to run in rerun on weekday summer afternoons as a kid. I was never what you would call a fan as I was more of an outdoor kid but I saw enough to get the character of Uncle Martin lodged somewhere in my brain.
And there you have it, another fun bit of once useless trivia put to work all of these years later in an outdoor blog. The actor who played Uncle Martin had a later role that hit closer to my generation. It was none other than Ray Walston who portrayed History teacher, Mr. Hand, in the classic 80s comedy, Fast Times at Ridgemont High.
Good stuff. Aloha and talk to you later. Troy