I took a vacation day from work to fish the April Fool's Day opener on some public Knox County strip mine ground. The weather was a little cooler than I had hoped but it was dry and that was more important than warm when walking through the wild and weedy strip mines. Took some work to get on some cold front bass but got it done as detailed below.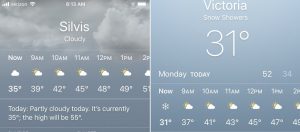 Get what you get and don't throw a fit when taking an April Fool's vacation day
Stats
Date: April 1, 2019
Location: Knox County, IL public strip mines
Time: 9:30am-5:30pm (5.25 hours fishing, the rest hiking)
Weather: Sunny/very windy
Air Temp: 34-48F
Water Temp: not available
Totals: 16 bass
Lures:
Strike King Pro Model Jig (green pumpkin) with Bass Pro Shops Triple Ripple craw trailer (pepper frog/hot orange) – 7 bass
Chatterbait (brown/black) with Yamamoto Zako trailer (Tennessee shad) – 6 bass
Bomber Flat A crankbait (baby bass) – 3 bass
Top Bass: 2-3
Top 5 Weight: 9-9 (2-3,2-0,1-13,1-13,1-12)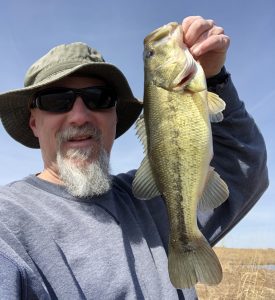 11:06am First bass ends up being Top Bass 17″ and 2-3 on a chatterbait
Notes and Nonsense (with an April Fool's theme)
Find Another Fool – Quarterflash (1982)/The Fool on the Hill – The Beatles (1967)
I actually spotted two other anglers walking a ridge somewhere around 10:00am and found a bit of appreciation for their dedication amidst the near sub-freezing morning windchill. I must admit it was a bit unexpected as I rarely see anyone even on pleasant days.
Third Time Lucky (First Time I Was A Fool) – Foghat (1979)
After a pair of bassless stops on some potholes I finally scored my first fish at 11:06am. I knew that things might be a little slow with temps in the 30s-40s over the weekend and only 34F when I started my trek but I was still a little worried. Bass #1 at 2-3 got the blood pumping again although little did I know at the time it would be Top Bass of the day.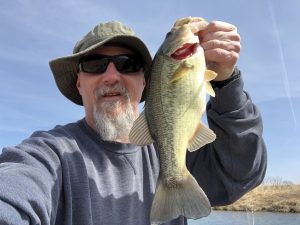 11:30am 14.5″ and 1-13 on a jig and craw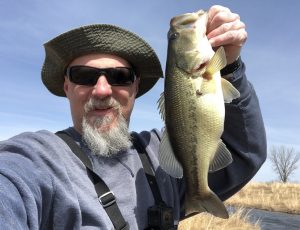 12:45pm 16.5″ and 2-0 on a jig and craw, just a little windy
Foolin' – Def Leppard (1983)
"Cause baby I'm not f-f-f-foolin'"
So, once I found a bite I decided to quit fooling around pond hopping and invest some time on the spot. I guess it didn't hurt that the first bass came from my best fishing hole on the site. All told, I would actually make a pair of stops on the lake for a total of 2.00 of my 5.25 fishing hours. During that time I landed 7 of my 16 bass including all of my Top 5 while alternating between a chatterbait and a jig and craw.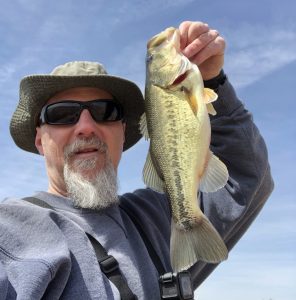 1:12pm 15″ and 1-12 on a chatterbait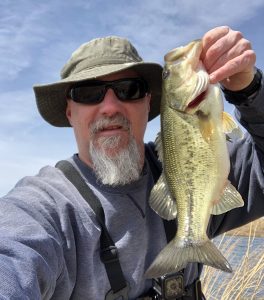 1:16pm 15.5″ and 1-13 on a chatterbait
(Now and Then There's) A Fool Such as I – Elvis Presley (1959)
The day encompassed 5 miles of walking which equated to more than 12,000 steps. A lot of work for those bass but it's a stunt that I have been pulling for a long time and one I will likely continue to pursue until my body says otherwise. I was certainly spent by the time I got back to the truck after being mobile and on my feet non-stop from about 9:30am until 5:30pm. The good news is, I'm not particularly sore as I type up this report on the day after. Got a little video that I hope to share at some point to convey what the walk is all about.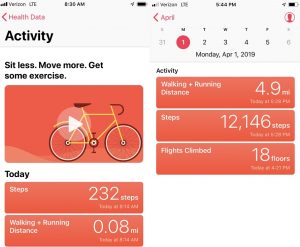 Kind of fun to track but there are times when I'm not sure I want to know it was 759 steps/bass
No Top 10 Trip Tunes this time around as too much of a good thing may wear the feature thin. Besides, while I dig weekday fishing, weekday radio is too much talk and not enough tunes (especially during the morning drive). In addition, I caught the start of the Cubs game on the ride home and it proved to be the most shameful yet of a very disappointing start (6 errors and shutout in this one).
From the looks of the coming warming trend the bite should just get better. You may have to dodge a few raindrops, however, but the rewards likely will outweigh being a "Fool in the Rain" (Led Zeppelin – 1979). Plenty of fishing stuff to come. Talk to you later. Troy