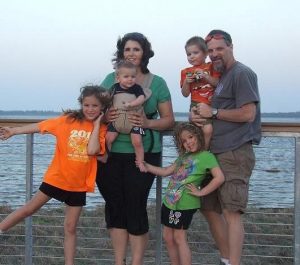 A 2012 shot of the family at a windy Emiquon
Emiquon features the tough and potentially dangerous combination of wide open water and a trolling motor only restriction (no gas motors even allowed on boats). This necessitates both some planning and some on the water decision making that can be a real dilemma if the bass are biting.
Originally posted 8-20-10
This one can really ruin your day; been there, done that, twice. My first trip to Emiquon on April 23, 2009 left me disturbed for quite some time as after all of the hype, the new fishing hole threw me a shutout. However, I was more disgusted with Mother Nature than The Emiquon Preserve. Following about an hour of distraction as whitecaps battered our eight foot johnboat and at times threatened to fill it up, Dad and I called it quits and headed home (Dad did catch four bass in the ugly conditions by the way).
A similar situation occurred on Friday the 13th last November as I got blown off the lake with a ten foot borrowed johnboat after landing a solitary 13" bass. On a couple other occasions we were able to withstand winds that were a little less nasty and hung around long enough to load up on the bass that were stacked up by the wave action. It was interesting, however, upon returning home to find that my equilibrium was off and I was still riding the waves as I sat in the recliner and later laid down for bed.
Such is Emiquon, a wide open expanse of water surrounded by virtually no wind breaks. Winds from the south or east get particularly bad as there is ample surface for the waves to pick up steam as they head towards the ramp and the western half of the lake that is open to anglers. A couple of my favorite spots require a roughly (and often rough) ten minute troll. As noted in Pitfall #7 this not only gives your batteries a workout, it also necessitates some planning. The wind can pick up in a hurry down there so you need to decide on how brave you want to be based on your watercraft, either sticking with the bite a long way from the ramp or playing it safe and moving closer to home.
I've learned my lesson and now find myself checking the wind forecast while keeping my fingers crossed for days before heading out. If you're fortunate to find a moderate day, fishing can be a blast on Emiquon (about 12 mph is the limit for our setup). Typically, I get all wound up at home worrying about the wind and wind up changing my mind numerous times about visiting Emiquon. After all, a two and a half hour round trip for forty minutes of fishing gets a bit frustrating. Pitfall #5 also comes into play as part of this dilemma.
Halfway through our list and the Pitfalls keep on rolling into May. Hope you'll continue to tune in. Talk to you later. Troy