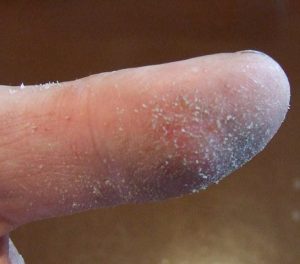 Anybody who says that fishing doesn't give you a workout is somebody who never experienced an Emiquon feeding frenzy.
Originally posted 8-25-10
Potential Pitfall #5 wrapped up with the observation that "the chipped paint and scarred lips are simply the hard earned battle scars of success" in regards to crankbaits. Well, another tangible sign of success on the lake is something we've always referred to as "bass thumb." If you run into a few of the periodic feeding frenzies that can occur at Emiquon, it can leave you with a pretty good (or bad) case of this malady. Similar to slime, it falls under the category of a "good problem to have."
The sand paper like patches of teeth on a largemouth bass don't seem like much at first glance but handle enough of these fish and they begin to leave their mark. At Emiquon we're talking a multitude of 12-15" bass that are rather feisty and often still a bit active when hoisted into the boat. After a while the scrapes start to add up.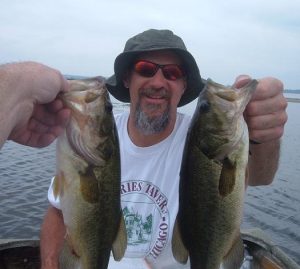 Not uncommon to be lipping a "double" when the bite kicked in.
To combat this issue I have taken to bringing along a Boga Grip style tool that I originally purchased to help out with the occasional walleye or muskie that wind up on the end of my line. In comparison these species have "real" teeth, as in puncture your skin, draw blood and inflict pain sort of thing. Anyway, the Boga grip also comes in quite handy as I'm partial to crankbait fishing. Call me a wimp if you'd like but a mouthful of treble hooks isn't particularly appealing when trying to lip a bass, I got lucky for a long time so now I frequently take the easy way out. Besides, I prefer wimp over wounded, the latter of which can ruin your fishing trip. Once I get a handle on the fish and use my pliers to dislodge the hooks I lip them anyway as I can't let them go without collecting some length and weight data. By this point the bass are usually a bit more subdued and seem to relax when I tell them that I'm strictly catch and release on their kind. And in the interest of showing at least some remaining bravado, I do land them the old fashioned way when throwing single hook stuff like spinnerbaits or soft plastics.
Of course, the human body and its remarkable opposable thumbs are quite resilient so those shredded badges of courage don't last forever (a scar from a treble hook can however). Some of Potential Pitfall #3 also takes a look at how long things can last.
Hands down the old Emiquon Preserve deserved a well-earned thumbs up. Talk to you later. Troy