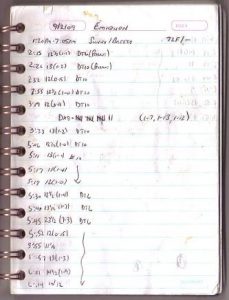 Quite a show when Emiquon lived up to "Expectations" but pre-trip visions can be a funny thing.
Most times when something sounds too good to be true, it is. In the case of those early Emiquon days, however, you really had to see it to believe it. And we were lucky enough on more than a few occasions to see Emiquon live up to those lofty expectations.
Originally posted 8-26-10
"Take nothing on its looks; take everything on evidence. There's no better rule." – Charles Dickens from Great Expectations
Isn't the internet great? With a few clicks I can come up with an applicable quote from something I've never read, making me sound smarter than I truly am.
Prior to my maiden voyage on Emiquon in April of 2009 I'd seen the pictures, looked at the lake and read the reports. While Pitfall #6 sent me packing after about an hour of whitecaps, overconfidence also caused me some distress. I launched with visions of the initial fishing reports proclaiming "100 bass days", "ten straight casts with a bass" and "several times we caught two on one crankbait" dancing in my head. While I don't discount these claims, expectations led me to think I could fill the log book with my eyes closed.
Another 2009 outing also taught me something about expectations. Last August I fished McDonough County's Spring Lake on the day after Dad and Brent had a tough morning, only fooling a handful of short fish. Therefore, as Brent and I launched the next morning I was doing more hoping for bites than expecting them. A half hour later I had three bass totaling 7-12. An hour into the trip we'd combined for 12-10 and both had yet to land our heaviest fish of the day. In the end, six hours of casting gave up a five fish limit of 16-8, exceeding all expectations on a lake I'd never fished before. At Emiquon on the other hand, I'd simply expected that bass after bass would slam my lure as soon as it hit the water. I was wrong, until I came back in the fall.
This brings me to 2010 on Emiquon. By most accounts things aren't so easy in year two of public access. My experience has been in tune with these reports during the pair of trips I've taken (19 bass in four hours for Julie and I combined in May and 44 bass during a ten hour solo trip in June).
Even last year as we kept casting towards the century mark I couldn't help but wonder how long it could last. Yes, pessimism sometimes has a way of creeping in even during the best of times. However, I've learned my lesson and will reserve judgment until after September and October have passed. I always look forward to fall fishing and I plan on hitting Emiquon a time or two depending on the wind. The bass are still there, maybe just a bit more wary or educated, who knows? I'm no better fisherman than anyone else and certainly less talented than many. Being a creature of habit I'm too set in my ways, often reluctant to experiment, largely content to beat the bank and generally out of practice to name a few traits that could use some help. But I won't be convinced of a decline until I get a chance to follow Mr. Dickens' advice and collect some evidence in the best way I know how, personally.
Emiquon did churn out a few more impressive outings for me in 2011 and 2012 but only one of those lived up to the craziness of 2009. Six years have passed since my final visit and the site seems to have fallen of the radar in terms of coverage and reports beyond debate over site management. Then again, maybe those who still have the lake dialed in have elected to keep things under wraps. Talk to you later. Troy