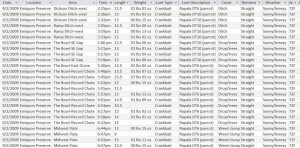 It was easy to pat yourself on the back on the way home from one of those early Emiquon trips.
And don't get me wrong, you deserved it.
But you were also wise to engage in a little reality check on the drive as well.
Originally Posted 8-29-10
Things have definitely gotten tougher for bass fisherman this year at Emiquon but you've still got to be mindful that the place has the potential to spoil you. In my eight trips to the area my fishing partners and I have hauled in hundreds of bass despite being sent packing twice by the wind and once by illness. Even a trip shortened by a frustrating replacement trolling motor wild goose chase resulted in 98 bass for me and Dad. My best outing was a combined 154 bass day with my brother, Brent. The smallest bass I've recorded from Emiquon was seven inches while the largest tipped the scales at just over seven pounds. However, those bookends were the exception as the vast majority of bass were in the twelve to fifteen inch range.
But even those results paled in comparison to other anglers who'd reported one hundred bass days for each angler in the boat. Another instance had a lone angler sitting in one spot for seven hours and reeling in 160 bass. Dad stopped at the ramp last year while in the neighborhood for the Fulton County Fair and immediately observed an angler nail bass on four consecutive casts. I've seen pictures of two bass on one lure and saw Dad duplicate the feat with a Rat-L-Trap. Anglers also reported eight to ten bass following a hooked fish to the boat as they attempted to get a piece of a perceived meal.
The seemingly tall tales go on and on with a frequency unheard of at other fishing holes. Such occurrences may have diminished this year but if you are in the right spot when the fish turn on, Emiquon can still live up to the initial hype.
And therein lays the final pitfall.
I've found myself telling Emiquon stories using the word "only", as in "we only caught fifty bass." It might take me several good days on some of my other fishing holes to log fifty bass. So I must bear in mind that my Emiquon results likely say more about the fishery than the fisherman. A 150 bass day is a remarkable thing to behold but I actually felt more of a sense of accomplishment when Dad and I hauled in fifteen at Lake Storey a couple weeks prior.
If you haven't paid a visit to Emiquon, I would encourage you to give it a shot this fall. Just be very careful. I can't speak for anyone else but I know that during several rides home I've had to decompress a bit and remind myself that I'm really not that smart.
Much has changed over the years at the unique fishing hole. Water levels have risen, fallen and risen again, visible structural landmarks have succumbed to the elements over time, exotics have found a home and the bass have gotten smarter or scarcer.
Oh, but there was a time…
Talk to you later. Troy