2019 is off to a slow fishing start with a slew of responsibilities and an abundance of rainy weather keeping me from getting on the water. The former I can handle no problem, got more important things to do as a husband and parent. The latter, well, I have grown weary of the nearly constant rain this month. Can't control the weather though and certainly understand that lack of fishing is a mere inconvenience compared to the rain related hardships faced by many in the area.
Weather was a big theme on this day as noted in this video intro and recap of the trip
Stats
Date: May 27, 2019
Location: Knox County, IL private strip mines (2 lakes)
Time: 11:45am-2:20pm
Weather: Partly cloudy to overcast/breezy to windy
Air Temp: 74F
Water Temp: not available
Totals: 9 bass
Lures:
Booyah Buzz Buzzbait (snow white shad or bleeding shad) – 6 bass
5" Yamasenko wacky rig (watermelon/crème laminate) – 2 bass
Booyah Blade Spinnerbait (bluegill) with twin tail trailer (salt and pepper) – 1 bass
Top Bass: 2-4
Top 5 Weight (only 2 at 12" or better): 3-5 (2-4,1-1)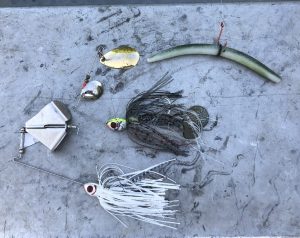 Winning lures of the outing, some true favorites
Notes and Nonsense
MVP – West Central Illinois is saturated and finally forced my hand to drop a few dollars on a new pair of boots. Blaine's Farm & Fleet came through with a reasonable price, just hope these will last me as long as my old Northerners. Their decade plus term of service was admirable but too many ripped up patches would have left me with wet socks on this outing. The new boots get my vote as most valuable piece of equipment on this trip.
Video clip I call "Boots and Bookend Bad Weather"
"And I wonder, still I wonder, who'll stop the rain?" – Who'll Stop the Rain – Credence Clearwater Revival (1970)
Torrential rains greeted me on the way to the fishing hole despite only a 40% chance per the forecast. I actually pulled over at the Pilot gas station outside Woodhull and waited for 15 minutes pondering just going back home. Glad I stuck it out for a few hours on the water and got my May bass. Oh yeah, on the way home it was raining so hard as I neared Galva that it was tough to see. It never ends…storming again as I type this, in fact.
Workout – The soggy conditions had me concerned about reaching my fishing holes without getting stuck or tearing up the lane I looked to traverse. My concerns were correct as I stopped part way in to inspect on foot and elected to pull the boat out and drag it the rest of the way rather than risk it. Getting a bit more challenging to pull this stunt as the years add up but you gotta do what you gotta do when you have a chance to do it.
First May bass of 2019 and Top Bass of the day
May Bass – After a shutout and one missed buzzbait strike on an extremely weed choked lake I switched to Plan B. Water conditions were quite pleasant on my second stop and only a few casts after launching I had a long overdue May bass in hand. Icing on the cake was a Top Bass of 2-4 for a bit of a boost to my 2019 creel. Missed a couple others on a buzzbait that would have helped also but such is fishing, just happy to get out.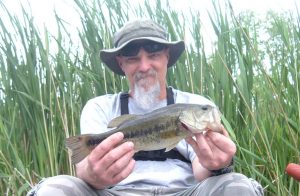 The other "keeper" on the day 13.5″ and 1-1, got some interesting video to come on this greedy catch
Overall, a successful storm shortened outing and great to fool a few of my favorite fish while getting reacquainted with the Senko and buzzbait (both bites are in gear so give 'em a go). Also had some interesting strikes and catches caught on the GoPro which I always find fun. Looking to pass along those items after the latest Friday Flashback. Good luck if you get out, send me those Top 5 fish and talk to you later. Troy