Early departure required to catch sunrise on the water this time of the year.
I wasn't sure if I would fork over the dough for a Non-Resident Iowa fishing license this year but broke down last weekend. On the upside, the regular haunt over the river is only a 25 minute drive. On the downside, I still have yet to figure out how to fool any of the quality bass that I've seen firsthand and in scattered reports over the last several years.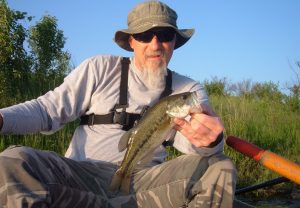 Spoiler Alert – This was it for the morning, one lone bass
Stats
Date: June 2, 2019
Location: Lost Grove Lake – Scott County, IA
Time: 5:35am-8:05am (2.25 hours fishing)
Weather: Sunny/windy
Air Temp: 56-58F
Water Temp: not available
Totals: 1 bass
Lures:
Booyah Buzz Buzzbait (bleeding shad) – 1 bass
No bass at 12" or better
Brief clip of the lone catch, a well placed cast along a laydown in flooded timber got it done. Duplicated the cast in dozens more similar spots with nary a strike.
Notes and Nonsense
Bugs, Boats and Breeze – While it's always good to find time to get on the water, this trip turned out to be a bit frustrating. For starters, my normal area was too muddy so I had to drive uplake in search of clearer water for a second drag of my boat to the water. No surprise as the gnats were terrible but just had to grin and bear it. Two parking lots totaling 50 trailers and a couple dozen other vehicles got me reminiscing about the days when I used to have weekdays off and generally owned the water. Finally, a stiff breeze is not angler friendly to a guy in a rowboat.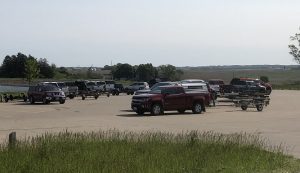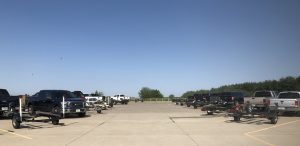 A couple shots of lots and I'm sure the third launch was just as packed, they were still coming as I was leaving.
Limitations – In regards to that last aspect, oars just don't lend themselves to rapidly relocating to a better or less crowded spot. And on this day, there was no such thing as less crowded as any direction I looked there was a boat or half dozen or ten. Often I can get into some locations where bigger boats can't go but even those presented a challenge as there were few open lanes to traverse without infringing on someone else's spot.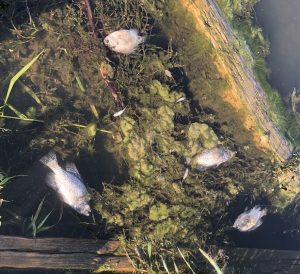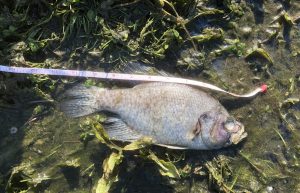 The lake was littered with dead fish including some crappie that were pushing the 12″ mark.
Dead Sea – While I wasn't constantly checking the other anglers, the only person I saw landing fish was a bank angler who fooled a pair on a point while casting a crankbait. What I did see was a multitude of dead bluegill and crappie anywhere I rowed and some pretty decent sized ones in the mix. Tough to say the cause but perhaps something in the runoff from the overabundance of rain took them out.
So, while it was interesting to see a new section of the 400-acre lake I really don't know when I will be back to get some more use out of my Iowa license. I definitely would like to take a shot at my regular portion of the lake but when you can barely see the skirt on your buzzbait at boatside it's going to be while until the water clears up.
Friday Flashback coming your way tomorrow and beyond that will have to see when I can get away again. Talk to you later. Troy