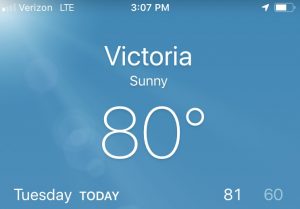 Well, my folks took my boys for a couple days this week and my girls (Julie included) really don't mind if I stay out of the way so guess what I decided to do on Tuesday?
Yep, even was able to ditch work a few hours early to hit the fishing hole. That fact convinced me that I needed to invest in the extra drive time to some of my favorite ground rather than dinking around closer to home at the often stubborn (and currently dirty) portion of Lost Grove Lake.
However, the Knox County strip mine bass started out rather tight-lipped too before a late rally saved the day.
Stats
Date: June 11, 2019
Location: Knox County, IL private strip mines (2 lakes)
Time: 3:15pm-8:45pm (5.25 hours fishing)
Weather: Sunny to partly cloudy/breezy to windy
Air Temp: 80-72F
Water Temp: not available
Totals: 11 bass
Lures:
5" Yamasenko wacky rig (watermelon/crème laminate or natural shad) – 7 bass
Booyah Buzz Buzzbait (snow white shad) – 3 bass
Booyah Pad Crasher Frog (cricket frog) – 1 bass
Top Bass: 1-11 (Senko)
Top 5 Weight (only 4 at 12" or better): 5-7 (1-11,1-7,1-7,0-14)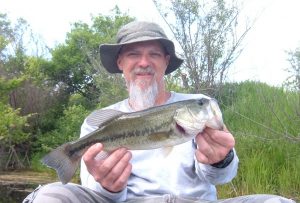 4:49pm the first "keeper" on a tough late afternoon/early evening bite 15″ 1-7 Senko
Notes and Nonsense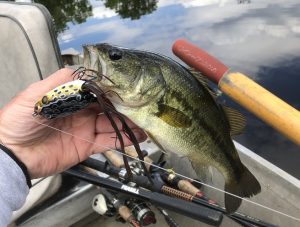 3:42pm First bass and thanks Landon for the inspiration (details below)
Frog Inspiration – Leaving work at 1:00pm I then ran by home to pack my lunch and supper before hitting the road and decided to check my email. Pretty cool when you have a fishing report to greet you just as you are headed out the door. The report from some Knox County water from fishing friend, John Kirkemo, noted, "No action until Landon brought out his Walmart- bought scum frog which he had never used. He cast the lure on the vegetation a few times before he started to get hits. The fish or fishes kept after the frog until one was hooked. The fish was immediately caught up in the weeds, so we had to go after him with the boat. We didn't see the fish until we had scooped a pile of weeds with the net." That presentation also boated my first bass of the day and was my first frog bass since July 6, 2014. A tip of the floppy hat to the young Top 5 angler, Landon Hannam, for inspiring an old dog to try an old trick.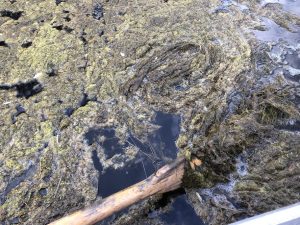 Things just look ugly out there this year, I blame the crazy spring weather but who knows 
Dirty Water – I suppose it is largely a factor of the monsoon-like spring we experienced but my strip mine water is really a mess. It is quite dingy which puts a damper on my buzzbait bite as I had at least half a dozen bass come up short and a couple more come unbuttoned as they likely weren't hooked very well. It also diminishes the effectiveness of the Senko which shines a bit more in less stained water. In addition to the clarity aspect, the surface vegetation bears an ugly and unhealthy looking hue in the shallow surface mats and floating clumps. Finally, random strands of floating weeds and a fair amount of cottonwood fuzz add some frustration. And then there's the gnats…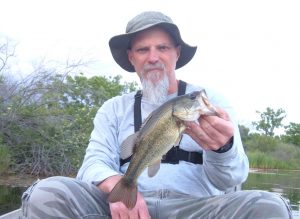 8:01pm finally back on the board with another "keeper" as a late rally kicked in 12″ 0-14 Buzzbait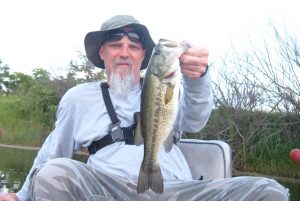 8:14pm Top Bass 15.5″ 1-11 Senko
Late Night Bite – With sunny skies to start the day I knew it could be slow and I was pleased to see the forecast called for things to cloud up as the evening progressed. I tried to keep my head up after three bass in the first three hours knowing that the low light conditions of dusk/sunset and cloud cover combo held potential. Thank goodness for a good finale as eight bass in the last couple hours turned it into a decent outing.
8:35pm crunch time with a 15″ 1-7 on a buzzbait but ran out of time on a fifth "keeper" to complete a "limit"
While I didn't get any of the big buzzbait bites that I know are out there, I was happy to find an extra day on the water to get my fix. Also got my tune fix on the ride down (bad Cubs performance took over the airwaves on the way home) so look for Trip Tunes post this weekend on the heels of tomorrow's weekly Friday Flashback. Talk to you later. Troy