Similar to last week's Friday Flashback I was back at a Bassmaster event nearly fifteen years to the day from the 1994 Bassmaster Superstars. Things sure had changed.
Originally Posted 6-17-09 as "Amateur Observations"
On June 12, we took a family trip down to Fort Madison, Iowa to check out the day two weigh in of the four day Bassmaster Elite Series event "The River Rumble" on the mighty Mississippi River. It is the seventh of eight regular season events in the series that will eventually help determine the Toyota Tundra Bassmaster Angler of the Year title. The series features the sport's top bass fishermen and points are awarded based on an angler's finish at each event. Perhaps this background information and my passion for fishing may help to explain why I considered a bass tournament weigh-in a good idea for a family outing.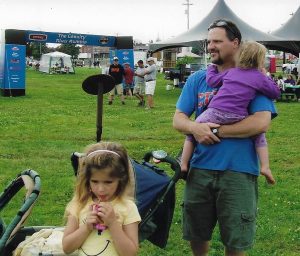 It was certainly a challenge for Julie and I to contend with three kids whose combined age's total just less than eight years old (Helena turns five on 7/1, Carly three on 7/9 and Jayce was a whole fifteen days old). At various times during our journey, I felt like patting myself on the back with one hand and slapping myself upside the head with the other. At any rate we survived a trip that lasted roughly six hours with approximately thirty minutes actually spent watching roughly a dozen of the 100 anglers bring their catch to the scales. The remainder was spent driving, walking, going potty, nursing a baby, changing his diapers and dining at Taco John's in Burlington. The last item was Helena's favorite portion of the ordeal as she was quite excited upon learning that we were going to eat at a restaurant (that's kind of a rarity on our budget these days).
Anyway, on our way home, Julie commented that she was "excited just to see me excited." It made me feel good as I was just beginning to daydream away the final stages of brooding over a plan that seemed like a good idea about four challenging hours before. I had no idea that some of what I was feeling about being in the presence of the bass fishing legends had actually shone through my outward frustration. The spectacle for me was what I would call a "Wrigley Field moment." You can watch it on television, look at the pictures or see it in print, but being there takes your breath away every time. One of those goosebump, loss for words and can't wipe the smile off of your face experiences; I felt like a fourth little kid in our party despite being a month away from turning forty-two.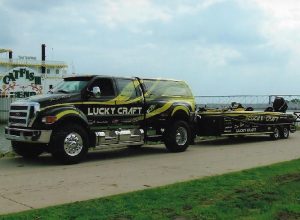 Skeet Reese's monster vehicle with boat in tow
The only other Bass Anglers Sportsman Society event I'd attended was with my brother, Brent, back in 1994 and the weigh-in took place inside of the Peoria Civic Center. While it was exciting it seemed much less accessible than the intimate setting I found at Fort Madison's Riverview Park. We strolled along the riverfront right next to the competitor's rigs and stepped aside as anglers cruised by on golf carts. We watched Michael Iaconelli (2003 Bassmaster Classic winner) and Guy Eaker (30 year tour veteran who waved at me and Carly) drive by on their way to the stage and were dwarfed by Ish Monroe's "monster truck" of a tow vehicle as he stopped near us to chat with a fellow angler. My newest little fisherman and I also got our photo taken standing next to Kevin VanDam's truck and boat (2001 & 2005 Classic winner and four time Angler of the Year). I also killed some time watching Takahiro Omori (Japanese born angler and 2004 Bassmaster Classic winner) as he checked his equipment and filled his reels with fresh line as Julie was nursing Jayce (discreetly) in our car a mere fifteen feet away. How cool is that?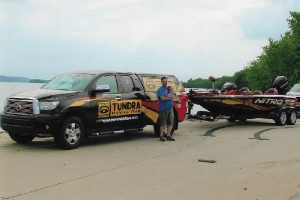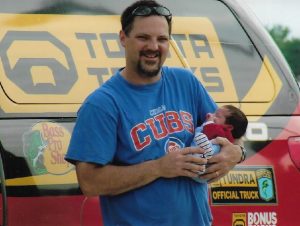 Me and my two-week old boy, Jayce, checking out Kevin VanDam's setup
I must admit a bit of envy as we passed by dozens of decked out and decorated tow vehicles and fully equipped bass boats. Gargantuan motors, power pole anchoring devices, an array of electronic gadgetry, used baits and the rigged rods of bass fishing's elite were all right there on public display. Famous anglers milled about, many with their families in tow, discussing strategies or just simply visiting. Some passed each other without a word while others stopped to chat like old friends. I tried to put myself in their shoes; you're tired, perhaps frustrated by your day on the water, you've got your boat and gear to attend to, you're hungry, you want to spend time with your family, and so on. Throw in the fact that everyone's after a limited amount of prize money and it has all the makings of quite a challenging career.
Coming out of my reverie, I also thought about how it's likely not as glamorous as it might look on television or in the magazines. For one thing, you earn all that fancy stuff by "catching" bass and if you can't do it consistently all over the country, year in and year out, the sponsors will find someone who can. With my recent struggles, my family would be living in a tent and eating ramen noodles (uncooked).
Secondly, although many anglers were joined by their wife and kids, that was likely due to summer break. I've been fortunate to have had a front row seat for each of my kids being born, never missed a tumbling recital, open house, doctor's appointment, school carnival and so on. Things don't work out so favorably with some other jobs, pro bass fisherman included, I'm sure.
Thirdly, have you ever spent eight hours bass fishing? I have, and my approach doesn't hold a candle to the wear and tear these guys go through each day on the water. I don't consider myself old by any stretch, but working from the ground up I typically have sore heels, ankles, knees, back and hands by the end of the day. Now try that for a couple practice days, followed by four consecutive tournament days (if you are skilled enough to make the cut after the preliminary rounds) multiplied by numerous events over the course of the year. I'd like to think I'm that tough, but I'm not.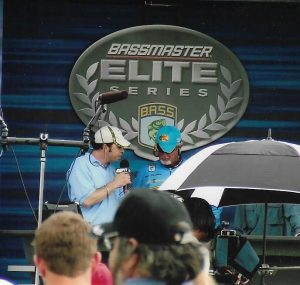 The legendary Rick Clunn weighs in and incredibly is still a competitive force in 2019
One of the anglers who have proven quite capable of enduring the grind is Rick Clunn. I was pleased that he was one of the anglers that we had the fortune of observing as he weighed in his catch. I've got twenty-five years of Bassmaster magazines stashed away in the basement and Clunn has been a force to be reckoned with for all of those years, and then some. He's been fishing the circuit since 1974 and has four Bassmaster Classic titles (a record), easily making him a living legend. It was refreshing to hear him expound on the tough conditions of our mighty river. I was encouraged to find that even the world's most talented bass fisherman still have days when it's tough to figure out a little green fish.
I considered a return trip for Sunday's finale but with the field pared down from 100 to 50 for Saturday and further to 12 for Sunday I felt as if I'd already seen the best part of the spectacle amidst a much smaller crowd of fans. While there was a children's carnival slated for Saturday and Sunday afternoons, I was more partial towards checking out the lineup of 100 loaded rigs that likely have price tags in excess of the value of my home, annual salary and battered retirement fund combined.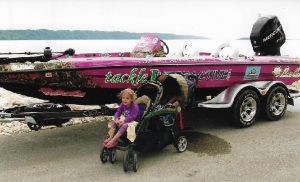 Carly and Jayce strike a pose aside the rig of eventual winner, Kevin Short
Oh, by the way, the winner of the River Rumble was Kevin Short, a knowledgeable river angler hailing from Mayflower, Arkansas. It just so happens that his rig was one of the first two parked along the riverfront as we made our way to the stage. As a result, I've got a photo of Carly and Jayce in the stroller alongside his boat and trailer. What are the odds? Well, considering that I only took pictures of five of the 100 different rigs, I suppose they were 20:1.
Whew! A little longwinded there as I was prone to do back in those days. Sometimes you've just got a lot to say and I'll leave it at that. Talk to you later. Troy