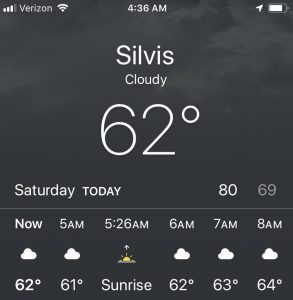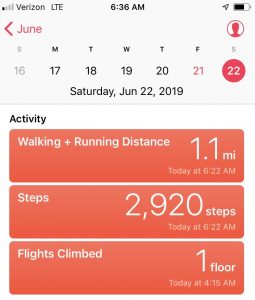 Driveway departure to lakeside launch
On the heels of the successful "100 Year Trip" I decided to try my luck again the next day at some more public strip mine ground with the same wheel in the boat approach. While the walk wasn't near as arduous, it was still a mile in and a mile out. Between the back to back trips and pushing myself for the final week of a fitness challenge (more on that later this week) my legs were shot. In addition, I couldn't find any big bites on my first lake and couldn't find suitable fishing conditions on the second lake so the day wound up a bit frustrating.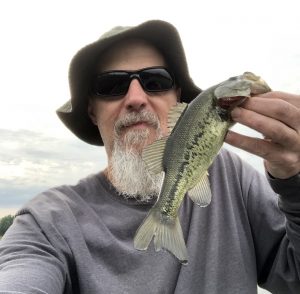 6:54am – First bass, gotta start somewhere but didn't get a whole lot bigger the rest of the morning
Stats
Date: June 22, 2019
Location: Knox County, IL public strip mines (2 lakes)
Time: 6:35am-9:50am (2.25 hours fishing, the rest walking)
Weather: Partly cloudy/windy
Air Temp: 62-66F
Water Temp: not available
Totals: 8 bass
Lures:
Booyah Buzz Buzzbait (snow white shad) – 5 bass
Strike King Red Eye Shad (sexy shad) – 2 bass
5" Yamasenko wacky rig (watermelon/crème laminate) – 1 bass
Top Bass: 1-0 (Red Eye Shad)
Top 5 Weight (only 2 at 12" or better): 1-13 (1-0,0-13)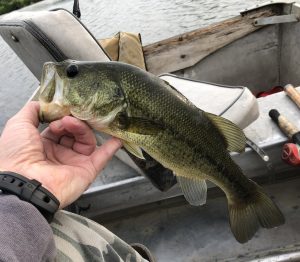 7:02am – the first of two "keepers", this one on a buzzbait
Notes and Nonsense
Stop One – The plan was to hit two spots with the first lake being the farther of the two walks. I've done well on this lake in terms of numbers over the years but have yet to find any big bites. My brother, Brent, has a 4-15 and a 3-2 from the spot over the last several years and I know of some others over three pounds but I just can't find them. More of the same on this outing with only two qualifiers for a Top 5 trip weight and they barely made the cut.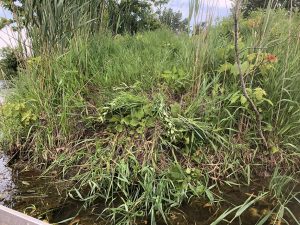 No such thing as boat ramps where we're going, this one is about a three foot drop into the water
Stop Two – After an ill-advised "shortcut" I found that the water and wind conditions make the lake essentially unfishable from my eight-foot johnboat setup. I made one lap around the main body of the lake with only a handful of casts before packing up and heading home a couple hours earlier than anticipated. Sore, tired and second guessing my choices of fishing holes left nothing in the tank by the time I got back to the truck. I hate to leave early when I get a chance to fish but the prospect of coaching an early afternoon baseball game in the quickly rising temps also had me thinking a little bonus rest could do me good.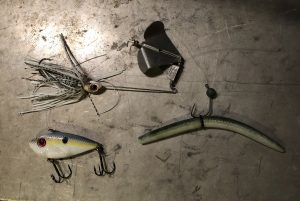 Arsenal – I went in with the mindset that a limited morning on the water was custom made for a buzzbait as my primary weapon of choice. Got enough bites to keep me interested but once again, not the big ones I'd hoped to find. I did catch one on a Senko via the follow up cast to a missed buzzbait strike as demonstrated on video in another recent fishing report. This lake features a corner where I can usually get a lipless crankbait bite and a pair of bass came through here for me again. The picture below is one of those that was particularly greedy on this morning.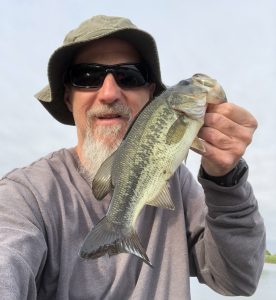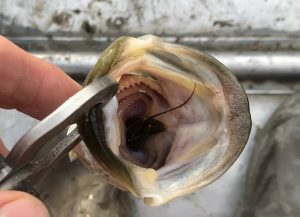 7:48am – Top Bass for the day and a greedy one at that as it already had a crawdad breakfast
So the big bites continue to elude me for 2019. I do have a couple items in the works to see if I can turn that around but those will be reports for another day should things turn out. In the meantime, tune in for another round of Trip Tunes combined from this outing and the previous day's "100 Year Trip" along with the regular Friday Flashback. Talk to you later. Troy