Here's a substantial excerpt from the original 2004 post (believe it or not I was even more longwinded back in those days).
For the third "Day On The Lake" installment we spend a "Day On The Lake With The Dads" since it was the first time I shared the boat with my Dad after becoming a father myself. Despite not fishing as much together this year, we didn't miss a beat and had a little something else to talk about when the fish got uncooperative. This was our first outing this year together in the big boat and I selected my "home lake" as our destination. Lake Bracken has a 10 horsepower limit on bass boat outboards and we looked forward to testing out Dad's new 9.9 HP motor during our trip. Here's some chronology, stats and notes on our day.
Date: July 23, 2004
Location: Lake Bracken
Weather: Partly cloudy to sunny/breezy
Air temp: 65 F-70 F
H2O temp: 76F-81F
Time: 6:00am-1:00pm
6:00am: After securing the new motor and nearly figuring out how to adjust the tilt properly, we give up and just decide to hit the water figuring the motor will work fine and we'll experiment later.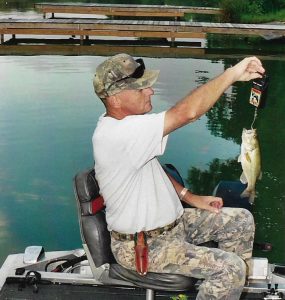 6:04am: Dad gets things started in a hurry as he boats our first bass of the day, a 12.5″ fish that weighs in right at a pound. The fish falls to QuadraShad spinnerbait (white) just east of The Boat Ramp along Ramp Road.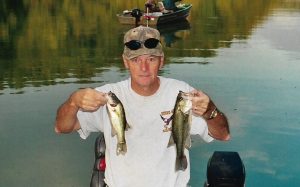 6:13am: Perfect timing as we catch a double for an audience. Dad's bass wins at 12.5″ and hits on the same white spinnerbait. My 10″ bass gets me on the board and comes courtesy of a Mann's 4- crankbait (blue/chartreuse). The couple that witness our catch are clearly impressed as they relate that the lady caught a six-pounder earlier in the week.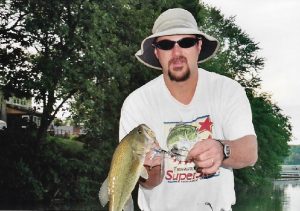 6:31am-6:35am: Two bass join the record book (barely) from Ramp Corner. I nail a 1-14 that slurps down a buzzbait near some scattered weed clumps. Dad follows up with a 1-8 on his trusty white spinnerbait.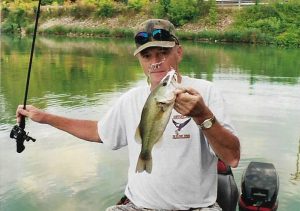 6:40am-7:30am: We decide to test out the new motor and leave Ramp Road for Oak Cove. Once we figure out the choke, the motor starts right up although it could stand to be tilted a bit more towards a vertical position but we haven't quite figured that maneuver out at this point. Oak Cove fails to produce so we motor to West Bay, another proven spot. Dad catches a short fish (under 12″) in West Bay and we elect to head towards the Dam.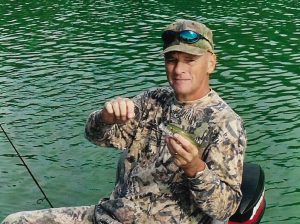 7:50am-9:09am: Steep Cove and the Dam area produce five short bass on a Mann's 4- (blue/chartreuse), a Texas rigged lizard (pumpkinseed) and a twister tail (smoke) fished on a 1/16 oz. jighead teamed with a spinner (silver).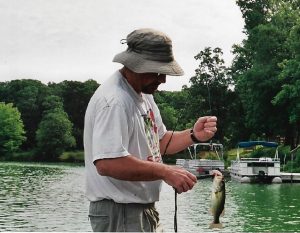 9:15am-10:10am: Our best stretch of the day as we boat nine bass during a flurry of activity from Breezy Bluff to Stoner's Cove. Seven of these bass hit on a Mann's 4- crankbait (red shiner). However, the "one that got away" throws the lure during a second jump and Dad loses a possible 3 or 4 pounder part way to the boat.
11:32am-12:32pm: Following a long drought we catch four more short bass scattered around the lake as many proven spots just aren't producing like normal. The Mann's 4- accounts for three of these fish and the other comes on Dad's ultralight jighead and twister tail with a spinner.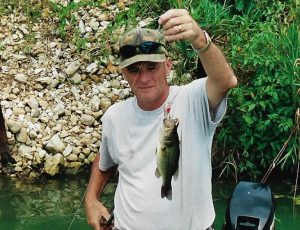 12:47pm-1:00pm: A final pass along Ramp Road nets Dad an 11″ bass on the Mann's 4- (red shiner) and we call it a day. Overall, a decent haul quantity wise but lacking in overall quality. Enough to keep us interested but we had to work for our bites.
Statistics
Total Bass 25
Dad's Bass 14
Troy's Bass 11
Crankbaits 14
Spinnerbait 4
Twister tail 3
Buzzbait 1
Plastic lizard 1
Plastic worm 1
Jerkbait 1
Total weight (4 at 12" or better): 5-5
Notes
Grand Slam – Dad wins the species title as he achieves a "Grand Slam" of four species. His totals include 14 bass, 7 green sunfish, 5 bluegill and 1 crappie. My final totals are 11 bass and 5 crappie.
The Smoo & The Jinx – Midway through our trip, Dad busted out a Smoo crankbait that Bagley Lure Company designed in the mid to late 80's. Coincidentally, that was probably the last time I saw one tied to someone's line. His model had the added attraction of a red rear treble hook that he had attached in hopes of provoking a reaction from some otherwise disinterested bass. Unfortunately, he caught a bass on his first cast. All too often, this is the kiss of death and today was no exception as the lure failed to produce another fish. I can't say I was real disappointed as my meager collection of Smoos were somewhere at home along with all the other lures that don't work.
Secret Tip – Sometimes you have to talk the fish into biting. As bites were tough to come by, I decided to try something different from my arsenal, a Texas rigged plastic worm. A proven bass weapon, but requiring more patience and finesse than I am typically willing to expend. I had just finished saying, "I haven't caught one on a plastic worm for a long time" when I got a hit. After a solid hookset, we had another fish in the boat. Making statements such as this requires a great deal of practice and anglers must resist the urge to employ them at the wrong time. Sometimes I wonder if I should actually give these tips away for free.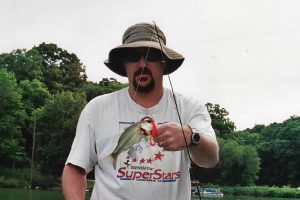 Tackle – Although crankbaits led the way, a number of lures were employed to get our bites. In all, eight different lures combined to boat our 25 bass. Such diversity got me wondering about just how much tackle we'd packed along to fool the fish. Final count on rods and reels was thirteen, including a pair of ultralight rigs for panfish. As far as lures and equipment, I decided to weigh all of our tackleboxes. The grand total was just over 40 pounds, including my "ultralight" tacklebox that weighed nearly ten pounds. Believe it or not, we actually had room in the boat for lifejackets, lunchboxes, a spare battery and two anglers.
Like Son, Like Father – "Imitation is the sincerest form of flattery" as the saying goes. Having nailed five bass in a half hour on my Mann's 4- (red shiner), I was not surprised to see the guy in the back of the boat tie on the same model from his tacklebox. Not long afterwards, he was rewarded with a strike from the "one that got away" mentioned previously. I'm sure things have worked the other way around in the past, but there's always a little extra satisfaction being copied. It's hard to cast humility aside in such instances and refrain from bragging or giving your fishing partner a little grief. And…since I write the stories, I get a chance to boast to everyone else as well.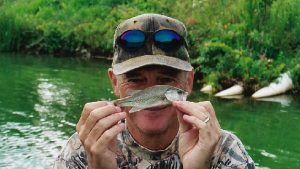 Happy Birthday To Me – This fishing trip was kind of my birthday present to myself, as I turned 37 sometime that day. Prior to this trip, I'd been on the water three times for a combined three and a half hours since April 19th. Rather than fishing, I'd spent my free time mowing rich people's yards for some extra cash, trying to be an understanding husband and contemplating fatherhood. Come July 1st, a 7-4 "keeper" became the most important thing in our world. After nearly a month off work, doing my best to lend moral support to Julie, I decided to be a little selfish on my birthday and go fishing. What better way to wet a line than with "Papa"? Though he's been "Papa" for nearly three years, it's an added bonus when he's "Papa" to my kid.
A definite winner in terms of quantity although quality bites were severely lacking. But then again, does it really matter when you spend part of your birthday on an old favorite fishing hole with your dad? Talk to you later. Troy