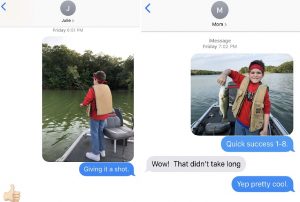 Gotta brag a bit and keep Julie and Gramaw up to speed 
Last week I had an opportunity to spend a couple hours on an old favorite fishing hole, Lake Storey. It's always a fun visit with plenty of memories from over 45 years of testing its waters. And this outing was even made more special as I had a young fishing partner aboard looking to make some memories of his (our) own. Here's a look at how it all played out with my ten-year old son, Jayce.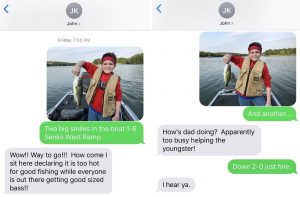 Definitely have to keep fellow Lake Storey and Top 5 angler, John Kirkemo, in the loop
Stats
Date: July 26, 2019
Location: Lake Storey – Knox County, IL
Time: 6:50pm-8:35pm
Weather: Sunny/windy
Air Temp: 82F
Water Temp: 82F
Totals: 4 bass (Jayce – 4 bass, Dad – 0 bass)
Lures:
5" Yamasenko weighted wacky rig (watermelon/crème laminate) – 4 bass
Top Bass: 1-8
Top 5 Weight (2 at 12" or better): 2-13 (1-8,1-5)
Notes and Nonsense
Pre-trip Quote – As we headed out from my folks, Papa gave Jayce a little fishing advice. He said, "Don't catch more fish than Dad or he won't take you again. I know, I caught more bass than him last time and he won't take me anymore." All in good fun and truth in the numbers but not so much in the invitations. In fact, me and Papa shared a boat the next day. But that's a fishing report for tomorrow (SPOILER ALERT: Dad caught more fish than me again).
The Score – my three proven baits = 0 bass, Jayce and his weighted wacky rig = 4 bass
Choices – Lake Storey receives a great deal of pressure and can be a tough one when it comes to bass fishing. Throw in some weedy and warm summer conditions and realistically I was hoping that our brief outing may at least produce one bite. As such, we stopped at a local gas station to pick up some waxworms for potential panfishing. Bad move when seeking Jayce's input on which species to chase as he immediately replied, "Bass." The next question was answered just as rapidly with "Senko" as his lure of choice.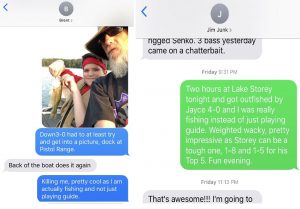 Uncle Brent and Jim Junk were also on the list for text updates, great to have fishing family and friends
Post-trip Quote – Well, I sure had to brag on my boy's domination of those tricky Lake Storey bass so I had provided text updates as our evening progressed and his catches continued to come aboard. Those receiving reports on the outing included Jayce's mom, Jayce's grandma, Top 5 angling buddy Jim Junk, fellow Lake Storey angler John Kirkemo and Jayce's Uncle Brent. Congratulations abounded and I got a particular kick out of Brent's comment "Back of the boat does it again." You see, not the first time I've been outfished by a co-angler in the back of the boat at Lake Storey. Doesn't bother me a bit and very rewarding to observe firsthand as Jayce develops into the sort of angler who may someday give his Uncle Brent a run for his money as the best Lake Storey bass fisherman I know.
A few items on the footage: yes, I made sure Jayce had his life jacket zipped up properly after noticing it undone on first catch, while he's got the signature bass kiss down, we do need to work on a bit more gentle release in the future, all good, learning as he goes.
What a fun couple hours on the water and I believe my reply to Brent's text message above told the tale of a kid flat out getting it done on the water. Being down 3 bass to zero at the time of our exchange, I still shot straight as I was indeed giving it my best shot with my best offerings. It seems the boy has got a knack for this bass fishing thing, looking forward to next time he gets a chance to outfish Dad. Talk to you later. Troy